Rôle du facteur de transcription ABI5 dans la vigueur et la longévité des graines de Medicago truncatula
ABI5 is a TF family of bZIP that activates or inhibits the transcription of its targets through the ABRE motifs in their promoters. The role of this TF is still unknown, but in Arabidopsis, it is involved in transcription of the LEA genes AtEM6 AtEM1 and plays a role in postgerminative growth arrest in response to ABA. Previous results from the research team demonstrated a role for ABI5 in seed dormancy and longevity of Medicago truncatula ssp tricycla. Here, we screened and phenotyped several abi5 mutants: Tnt1 Mtabi5, RNAi Mtabi5 and overexpressors of MtABI5 containing the repressor motif EAR. Seeds of the 35S::MtABI5_EAR did not show any ABA insensitivity, but they lacked dormancy and had a slightly reduced longevity. For seeds of the Tnt1 insertion mutants, longevity was strongly decreased and RFO sugar content was reduced. Seeds were not dormant and desiccation tolerance could be re-induced in germinated radicles, in contrast to wild type seeds. To determine putative targets, MtABI5 was ectopically expressed in hairy roots, followed by a microarray analysis to identify differentially expressed genes. The comparison of these data with the transcriptome of Tnt1 Mtabi5 mutants suggests that MtABI5 induces the expression of two ZEP genes, implicated in ABA synthesis, during maturation and represses two ABA 8' hydroxylases, involved in ABA degradation, around seed abscission. ABA contents are lower in the Mtabi5 and 35S::MtABI5_EAR seeds. We hypothesize MtABI5 is implicated in the acquisition and maintenance of seed dormancy via ABA modulation. MtABI5 also appears to be involved in the repression of genes involved in photosynthesis, concomitant with the loss of chlorophyll in the seeds during maturation.
ABI5 est un facteur de transcription (FT) de la famille des bZIP qui activerait ou inhiberait la transcription de ses cibles par reconnaissance au motif ABRE des promoteurs des gènes cibles. Le rôle de ce FT est encore méconnu, mais chez Arabidopsis, il serait impliqué dans la transcription de LEA AtEM1 et AtEM6 et joue un rôle dans l'arrêt de la croissance post-germinatif en réponse à l'ABA. Les travaux de l'équipe sur ABI5 chez Medicago truncatula ssp tricycla suggèrent un rôle de ce FT dans la dormance et la longévité des graines. Le but de ce stage est de cribler et phenotyper les mutants Tnt1 Mtabi5, RNAi Mtabi5 et les mutants surexprimant MtABI5 avec le motif répresseur EAR. Chez les mutants 35S::MtABI5_EAR, les graines ne sont pas dormantes mais ne montrent pas une phénotype d'insensibilité à l'ABA exogène lors de l'imbibition. Pour les graines de mutants Tnt1 Mtabi5, nous avons confirmé la réduction de la longévité et une plus faible teneur en sucres RFO. Ces graines ne sont pas dormantes, et il n'est pas possible de ré-induire la TD. Afin de déterminer les cibles putatives de ce FT, MtABI5 a été surexprimé dans des racines de Medicago. Une analyse transcriptomique par microarray a été ensuite réalisé pour identifier les gènes différentiellement exprimés. La comparaison avec les données transcriptomiques sur les graines des mutants Tnt1Mtabi5 suggère que MtABI5 induit l'expression de deux gènes ZEP, impliqués dans la synthèse de l'ABA pendant la maturation et réprime deux ABA 8' hydroxylases, impliquées dans la dégradation de l'ABA, à l'abscission. Les mesures de teneur en ABA montrent une diminution dans les graines de Mtabi5 et 35S::MtABI5_EAR par rapport au type sauvage. Aux vues de ce données, il est possible que MtABI5 serait impliqué dans l'établissement et le maintien de la dormance en modulant la teneur en ABA. MtABI5 semble également impliqué dans la répression des gènes impliqués dans la photosynthèse, en parallèle de la perte de chlorophylle dans la graines à la fin de la maturation.
Fichier principal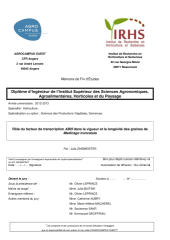 ZINSMEISTER_Julia_Role_facteur_transcription_ABI5.pdf (2.71 Mo)
Télécharger le fichier