L'obtention de l'Agrément Phytosanitaire : quels bénéfices pour une entreprise de distribution ?
Grenelle 2 law makes the Phytosanitary Authorization mandatory for all companies which sell or apply some plant health products. To obtain this new authorization, companies have to be certified. This certification is often seen as a constraint. However, in 1995, Porter and van der Linde supposed that a certification process leads to changes and improvements which are beneficial for the company. According to this hypothesis, the implementation of the certification provides some questions. Their answers can increase competitiveness and business performance at different levels. The purpose of this study is to test the Porter hypothesis in a distribution company. When we look at the implementation of Phytosanitary Certification, we see that it causes the revision of existing procedures, and the introduction of new operating processes. In this case, we chose to study the impacts of these changes on the operating mode of the company and its performance. A discussion of the observed results is proposed to delay the Porter hypothesis by expanding the number of factors that may affect the review of the company functioning.
La loi du Grenelle 2 de l'environnement rend l'Agrément Phytosanitaire obligatoire pour toutes les entreprises de distribution et d'application de produits de santé végétale. Son obtention passe nécessairement par une certification, qui est le plus souvent vécue comme une contrainte au sein des entreprises. Cependant, Porter et van der Linde émettent l'hypothèse en 1995 qu'une démarche de certification entraîne des changements et des améliorations qui sont bénéfiques pour l'entreprise. Selon cette hypothèse, la mise en place de la certification apporte un certain nombre de questions, dont les réponses permettent une augmentation de la compétitivité et de la performance de l'entreprise à différents niveaux. Le but de ce mémoire est de tester l'hypothèse de Porter au sein d'une entreprise de distribution aux professionnels. Lorsque l'on s'intéresse à la mise en place du dossier sur l'Agrément Phytosanitaire, on s'aperçoit qu'il entraîne la révision de procédures existantes et la mise en place de nouveaux processus de fonctionnement. Ce sont les impacts de ces changements sur le mode de fonctionnement de l'entreprise et sur sa performance que nous avons choisi d'étudier dans ce dossier. Une discussion des résultats observés est proposée, permettant de temporiser l'hypothèse de Porter en élargissant le nombre de facteurs pouvant avoir une influence sur la révision du fonctionnement de l'entreprise.
Fichier principal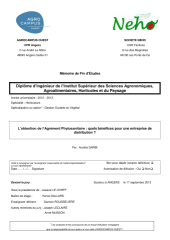 Garbi_Aurelia_Obtention_agrement_phytosanitaire.pdf (2.85 Mo)
Télécharger le fichier