Critères d'évaluation de la qualité de la relation médecin-patient en médecin générale
BACKGROUND:A good doctor-patient communication and interpersonal skills are a universal requirement for the quality of care in general practice. No grid of these skills is currently available and validated in France. This work was aimed, firstly, to define criteria for assessing the quality of the interpersonal relationship between doctor and patient from the perspective of GPs, and in a second step, to propose a grid of interpersonal skills within the general practice. METHOD: A literature review was conducted to identify the different grids already published. And qualitative research was carried out by five focus groups with general practitioners of Savoie, Haute-Savoie and Isère. Researchers conducted a thematic analysis of verbatim triangulation after the full transcript of the interview. RESULTS: 15 evaluation grids of the doctor-patient communication have been published in the literature. Data analysis has seven themes emerge, depending on the perspective of GPs: hospitality, general communication skills, empathy, the structure of the consultation, information and education for the patient, partnership and shared decision making, and the end of the consultation.CONCLUSION: This work has allowed us to develop a grid of 34 items. The proposed tool requires validation with experts and research agreement between its items and the perspective of patients.
INTRODUCTION : Une bonne communication médecin-patient et des compétences interpersonnelles sont une exigence universelle pour la qualité des soins en consultation de médecine générale. Aucune grille d'évaluation de ces compétences n'est actuellement disponible et validée en France. Ce travail avait pour but, dans un premier temps, de définir les critères permettant d'évaluer la qualité de la relation interpersonnelle entre le médecin et le patient à partir du point de vue des médecins généralistes et dans un second temps, de proposer une grille d'évaluation des compétences interpersonnelles au sein de la consultation de médecine générale. MÉTHODE : Une revue de littérature a été menée afin de répertorier les différentes grilles déjà publiées. Puis une recherche qualitative a été effectuée par 5 focus groups auprès de médecins généraliste de Savoie, Haute-Savoie et Isère. Une analyse thématique des verbatim a été conduite par triangulation des chercheurs après retranscription intégrale des entretiens. RÉSULTATS : 15 grilles d'évaluation de la communication médecin-patient ont été publiées dans la littérature. L'analyse des données, à partir du point de vue des médecins généralistes, a fait émerger 7 thèmes : l'accueil, les habiletés générales de communication, l'empathie, la structure de la consultation, l'information et l'éducation du patient, le partenariat et la prise de décision partagée, et la fin de la consultation. CONCLUSION : Ce travail nous a permis d'élaborer une grille de 34 items. L'outil proposé nécessite une validation auprès d'experts et une recherche de concordance entre ses items et le point de vue des patients.
Fichier principal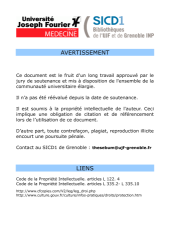 2014GRE15019_guichard_florian_et_philippe_melanie_1_D_.pdf (3.11 Mo)
Télécharger le fichier