Facteurs influençant positivement l'installation en médecine générale libérale chez les internes et les jeunes médecins récemment installés en Rhône-Alpes
Private practice is not popular among residents, referring to the small number of those who choose in private practice after graduating their MD. However, young general practitioners are not strictly against this kind of practice. This study aimed at pointed out factors that had a positive impact on the wish to settle in private practice among residents and junior general practitioners. A qualitative study was conducted, using focus groups for general medical practice residents and individual interviews with physicians who recently settled in the Rhone-Alpes region. Interviews were designed to obtain maximum variation and following an interviewer's guide, until saturation of data. Nine physicians and 28 residents have been included from April through December 2012. The analysis brought up five themes : the role of practical internships to acquire decisional and technical skills, the contribution of replacements in the choice of future mode of practice, the role of personal history and family projects, the specific qualities of group practice, combining modularity and versatility, and the appealing function of family doctor, in charge of public health in an area. All these themes make private practice acceptable, if an opportunity exists. Among those factors, many can be used for changing teaching methods and legislative framework. Residents and young general practitioners have positive opinions and good experiences about private practice in primary care. Pointed out factors must become part of medical training, in order to promote the culture of private practice among future general practitioners.
L'installation est peu prisée des internes de médecine générale, comme en témoigne le faible nombre d'installations après la thèse, pourtant les jeunes médecins généralistes ne sont pas opposés à ce mode d'exercice. L'objectif de cette étude était de mettre en évidence les facteurs influençant positivement la volonté de s'installer en libéral chez les internes et jeunes médecins généralistes. Une étude qualitative a été réalisée par des entretiens collectifs d'internes de médecine générale, et individuels de médecins généralistes récemment installés en Rhône-Alpes. L'étude a été conduite en recherche de variation maximale, suivant un guide d'entretien, et jusqu'à saturation des données. Neuf médecins et 28 internes ont été inclus entre avril et décembre 2012. L'analyse a mis en évidence cinq thèmes : le rôle des stages ambulatoires pour la formation décisionnelle et technique, l'apport des remplacements pour le choix du type d'exercice, la place de l'histoire personnelle et des projets familiaux, l'envie d'un exercice médical en groupe, modulable et diversifiable, enfin, le rôle attractif du médecin de famille, acteur de santé sur un territoire. Ces thèmes rendent l'installation envisageable, à condition qu'une opportunité soit présente. Parmi ces facteurs, plusieurs peuvent servir de base à des interventions, en pédagogie et sur le plan réglementaire. Les internes et les jeunes médecins ont des opinions et expériences positives sur l'exercice libéral. Les facteurs mis en évidence doivent être présents au cours des études afin de favoriser la culture de l'installation chez les futurs généralistes.
Fichier principal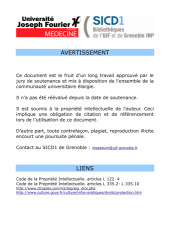 2013GRE15023_chandez_charlotte_et_chiron_francois_1_D_.pdf (2.65 Mo)
Télécharger le fichier