Vécu et représentations de la maladie des patients pensant être atteints de la maladie de Lyme
Introduction: Lyme borreliosis is the most common reportable vectorborne infectious disease transmitted by ticks. The diagnosis and treatment of Lyme disease are areas of controversy in France and North America, and research is ongoing in this field. The purpose of this study was to collate information from patients, who believed that they were afflicted with this disease, but where the medical profession had refuted their diagnosis. Methodology: This is a qualitative study using semi-structured individual interviews with thirteen patients who had not been diagnosed with Lyme disease by a doctor, recruited via an association of patients on the Internet. They were carried out by two researchers, and the verbatim was fully transcribed and coded double-blind. A thematic analysis in a phenomenological approach was conducted until consensus to obtain a triangulation of data. Results: Our study showed that patients self-diagnosed by comparing their symptoms with those presented by like individuals, on the internet. Lyme disease is an insidious and incurable condition, from an exogenous source, necessitating complex treatment. Patients often rejected their doctor's diagnosis that their symptoms were of a psychological nature. They also decided to take charge of their own health and disregard medical opinion. Patients perceive their long course of treatment as a battle to gain recognition of their symptoms and illness by the medical profession and society. Conclusion: Improving the management of these patients by recognizing their symptoms, support and awareness of the critical information received seems fundamental.
La borréliose de Lyme est la plus connue des pathologies vectorielles transmises par les tiques. Son diagnostic et son traitement sont sources de controverse et de discours alarmistes en France et aux États-Unis. Le but de cette étude a été d'explorer le vécu et les représentations de la maladie des patients pensant être atteints de la maladie de Lyme et dont le corps médical réfute ce diagnostic. Il s'agit d'une étude qualitative par entretiens individuels semi-dirigés auprès de treize patients dont le corps médical avait réfuté le diagnostic, recrutés via une association de malades sur Internet. Ils ont été menés par deux chercheuses, le verbatim a été intégralement retranscrits et codés en double aveugle. Une analyse thématique dans une approche phénoménologique a été réalisée jusqu'au consensus afin d'obtenir une triangulation des données. Notre étude a montré que les patients construisent seuls leur diagnostic sur différents éléments, dont les informations issues des autres communautés sur Internet. La maladie de Lyme est vécue comme une maladie insidieuse, incurable, de cause exogène nécessitant un traitement complexe. L'origine psychique à leur maux souvent proposée par le corps médical est rejetée. Le patient est acteur de sa prise en charge, entraînant une perte du rôle paternaliste du médecin. Leur long parcours de soin est vécu comme une bataille à mener pour une reconnaissance de leurs symptômes et de leur maladie auprès du corps médical et de la société. L'amélioration de la prise en charge de ces patients par la reconnaissance de leurs symptômes, l'accompagnement et la sensibilisation à la critique des informations reçues paraît fondamentale.
Fichier principal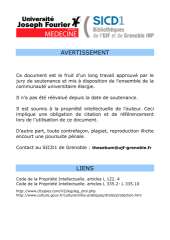 2014GRE15039_revil-signorat_amelie_et_gonnet_fanny_1_D_.pdf (2.06 Mo)
Télécharger le fichier