Les étrangers en Espagne : une géographie au niveau communal depuis 15 ans
The southern European countries are experiencing, since the 1980s, a reversal of migration flows. Countries of emigration until then they become immigration countries. The development gap is reduced thanks to the emergence of sectors employers of labor cheap activity. Spain is a privileged context to study migration dynamics. The Spanish population register lists all the foreign municipality. Using these data and methods of spatial analysis, master dissertation show the spatial structures of foreigners and their evolution between 1998 and 2013.
Les pays d'Europe du Sud connaissent, depuis les années 1980, un retournement des flux migratoires. Jusqu'alors pays d'émigration, ils deviennent pays d'immigration. Le retard de développement est rattrapé par l'émergence de secteurs d'activité employeurs de main d'oeuvre bon marché. L'Espagne est un terrain privilégié pour étudier les dynamiques migratoires. Le registre de population espagnol recense tous les étrangers par commune. En utilisant ces données et les méthodes d'analyse spatiale, ce mémoire montrera les structures spatiales des étrangers et leurs évolutions entre 1998 et 2013.
Fichier principal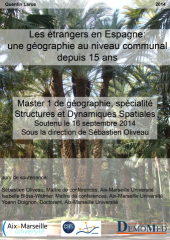 2014 Larue Quentin M1 (1).pdf (1.94 Mo)
Télécharger le fichier
2014 Larue Quentin M1 Atlas (1).pdf (10.98 Mo)
Télécharger le fichier