Transhumanisme et héritage prométhéen : cartographie des mondes posthumains
Since 2002, we have become acquainted with an emerging revolution, one that concerns "Converging technologies", also known as NBIC (an acronym for Nanotechnology, Biotechnology, Information technology and Cognitive science). This technological revolution is associated with a scientific one that is often called the "little BANG", where "BANG" refers to both the Big Bang and the four fundamental components of NBIC, "Bits, Atoms, Neurons, Genes". NBIC enable us to manipulate matter on an atomic and molecular scale. On this scale, the organic/inorganic, human/machine, living/non-living distinctions break down, making possible the combination between them. NBIC's ambitions are carried to the highest level by transhumanists who wish for humanity to direct the future course of human evolution. They advocate for the transition from humanity as we know it to a posthumanity, that is, a technologically enhanced humanity beyond its natural limitations. This means, on the one hand, to stave off or to eliminate aging, disease, disability and even death; and, on the other, to enhance human intellectual, physical, and psychological capacities.
The purpose of this research is to provide a philosophical perspective on such emerging technologies and, most importantly, on their different ideas and ideals of progress. We focus on transhumanism, the main objective being to wrest it from the fetters of prejudices, biases and éthiquettes of all sorts in order to consider it as what it strives to be and to test its philosophical pertinence. We equally explore the imaginary of progress and the influence of science-fiction stories on the technological and scientific innovation.
On entend parler depuis 2002 d'une révolution en train de s'opérer, celle des technologies convergentes, plus communément appelées NBIC (pour Nanotechnologies, Biotechnologies, technologies de l'Information et sciences Cognitives). Cette révolution technologique est associée à une révolution scientifique que certains nomment le "petit BANG", où "BANG" est à la fois une référence explicite au Big Bang et un acronyme permettant de désigner les quatre composants de base des NBIC, à savoir les bits, les atomes, les neurones et les gènes. Les NBIC permettent de manipuler la matière à l'échelle des atomes et des molécules. Or, à cette échelle, l'organique ne se distingue plus de l'inorganique, le vivant de l'inerte, l'homme de la machine, ce qui rend possible la combinaison des deux. Les ambitions des NBIC sont portées, à leur plus haut niveau, par les transhumanistes, qui souhaitent que l'humanité prenne en charge sa propre évolution. Ils prônent le passage de l'humanité telle que nous la connaissons actuellement à une post-humanité, c'est-à-dire à une humanité technologiquement augmentée et débarrassée des limites naturelles de l'être humain : d'une part combattre la maladie, le handicap, la vieillesse et la sénescence, et empêcher la mort ; d'autre part augmenter les capacités humaines et notamment les facultés cognitives et physiques.
Nous souhaitons avec ce mémoire apporter un regard philosophique sur les nouvelles technologies, et en particulier sur les différentes visions du progrès qui les accompagnent. Nous nous focaliserons, à ce compte, plus particulièrement sur le mouvement transhumaniste et nous tâcherons, entre autres, de nous débarrasser des "éthiquettes" et des préjugés qui pèsent sur ce dernier afin de le considérer pour ce qu'il prétend être et mettre à l'épreuve sa pertinence philosophique. Parmi les lignes directrices de ce travail, on retiendra également l'intérêt porté aux imaginaires du progrès et aux récits de science-fiction qui accompagnent les avancées des sciences et techniques.
Fichier principal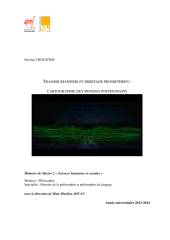 Crozatier Nicolas - Transhumanisme et heritage prometheen.pdf (1.4 Mo)
Télécharger le fichier