Distinction des dommages causés sur les caryopses de céréales par la carbonisation et le charançon du blé (Sitophilus granarius) : expérimentations sur caryopses de seigle (Secale cereale) et de blé tendre (Triticum aestivum) & applications aux assemblages carpologiques
Among the different bio-agents responsible for crops degradation, insects undoubtedly figure among the major pests by altering, destroying and contaminating stored products, including grains. For these reasons, the archaeoentomological approach appears to be a relevant tool in the study and interpretation of ancient carpological assemblages. Among pests of grains stocks, the granary weevil Sitophilus granarius (Coleoptera: Curculionidae) is, by far, the commonest species in archaeological context. However, the traces of this insect's activity (trophic and / or nesting) in ancient carpological corpus remains poorly documented. These traces are even more difficult to recognize on charred grains since some alterations can be mistaken for lesions already present on seeds, especially if no insect remains are preserved. These taphonomical biases make it difficult to interpret archaeological assemblages. Because of the parameters involved (e.g. time, temperature), carbonization may affect the caryopses parasitized by S. granarius differentially; causing different types of impacts (deformation, tunneling, splitting). From carbonization experiments conducted on both healthy and parasitized grains of modern caryopses of rye (Secale cereale) and wheat (Triticum aestivum), criteria to discriminate the impacts of carbonization from those related to grain weevil infestation are presented. Following a taphonomic approach, these experimental results are then compared to archaeological assemblages.
Parmi les multiples bio-agents responsables de la dégradation des récoltes, les insectes figurent incontestablement parmi les principaux ravageurs en altérant, souillant et détruisant les denrées entreposées, notamment les grains. Pour ces raisons, l'approche archéoentomologique apparaît comme un outil pertinent dans l'étude et l'interprétation des assemblages carpologiques anciens. Au sein des ravageurs des stocks céréaliers, le charançon des grains Sitophilus granarius (Coleoptera : Curculionidae) est l'espèce la plus fréquemment retrouvée en contexte archéologique. Toutefois, les traces d'activité (trophique et/ou nidificatrice) de cet insecte dans les corpus carpologiques anciens restent peu ou pas documentées. Ces dernières sont d'autant plus difficiles à identifier sur des grains carbonisés que certaines altérations peuvent être confondues avec des lésions présentes sur les semences, a fortiori si aucun vestige de l'insecte n'est préservé. Aussi ces biais taphonomiques gênent- ils l'interprétation des assemblages archéologiques. Selon les paramètres en jeu (durée, température…), les effets de la carbonisation agissent de manière différentielle sur les caryopses parasités en causant différents types d'impacts (déformations, creusement, éclatement). À partir d'expérimentations de carbonisation conduites conjointement sur des grains sains et altérés par S. granarius, sont présentés divers critères permettant de distinguer les impacts de carbonisation et ceux liés à l'action de S. granarius sur un référentiel moderne de caryopses de seigle (Secale cereale) et de blé (Triticum aestivum). Dans une approche taphonomique, les résultats expérimentaux sont ensuite comparés à un référentiel archéologique.
Fichier principal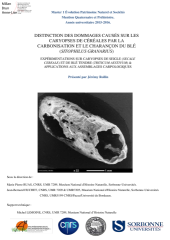 Mémoire Jérémy ROLLIN.pdf (1.83 Mo)
Télécharger le fichier
Origin : Files produced by the author(s)