Le parcours migratoire des réfugiés érythréens installés dans la Marne
This dissertation illustrates the complication behind the reasons why Eritrean refugees flee their country. The primary aim is to be able to settle in a country that guarantees their physically and economic safety. Once they settle in that country, they are able to provide financial aid to their families who still live in Eritrea. However, at the end of their migration route, the country they target to reach is linked to cultural networks. Indeed, Eritrean migrants decide to go to a country in particular because they already know that there are Eritreans who already live there, thus who can help them settle in the new country. Thereby, they choose a particular country to go to due to their link with members of an Eritrean diaspora living there.
Ce mémoire porte sur la complexité des raisons de départ de l'exil des réfugiés érythréens. De prime abord, ils fuient leur pays dans l'espoir d'atteindre un pays qui puisse leur garantir la sécurité physique et économique. Une fois installés dans ce pays d'accueil, ils ont la possibilité d'envoyer de l'aide financière à leur famille restée au pays. Toutefois, le choix du pays dans lequel ils se dirigent, prouve que les itinéraires mi-gratoires sont également attachés à des logiques de réseaux culturelles. Ils vont vers tel ou tel pays car ils savent que dans ce pays ils vont y retrouver des érythréens qui s'y sont installés auparavant. Ainsi, le fait de se diriger vers un pays en particulier s'explique particulièrement par l'existence d'une communauté diasporique dans ce pays d'accueil.
Fichier principal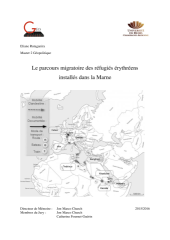 memoire_M2_2016_Rutaganira_Eliane.pdf (1.32 Mo)
Télécharger le fichier
Origin : Files produced by the author(s)