Les guerres de religion au cinéma
The period of the Wars of Religion has been widely used in cinema since 1897, with L'Assassinat du duc de Guise by Georges Hatot. In total, more than forty films were produced, between 1897 and 2014, representing a period of religious and political troubles in France and England. These filmic sources offer a certain reading of history, which the historian must take into account. Their representations, whether anachronistic, modernized, distorted, authentic or purified, give a discourse on history. In that, each historical film must be analyzed in its entirety. This approach consists of designing what happens on the screen and behind the camera. It is a question of combining the film's analysis and the technical realization of the film, which testify to the intentions of the film-maker and the entire technical team to represent the story. The use of the Wars of Religion in the cinema requires a certain work on the way to stage the period of the 16e century. This work consists in the way of design the sets, the costumes, the music and the dialogues, translating the directing sought by the film-maker.
L'époque des guerres de Religion a été largement utilisée au cinéma depuis 1897, avec L'Assassinat du duc de Guise par Georges Hatot. Au total, plus de quarante films ont été réalisés, entre 1897 et 2014, représentant une époque faite de troubles religieux et politiques en France et en Angleterre. Ces sources filmiques proposent une certaine lecture de l'histoire, que l'historien doit prendre en compte. Leurs représentations, qu'elles soient anachroniques, modernisées, déformées, authentiques ou épurées donnent à voir un discours sur l'histoire. En cela, chaque film historique doit être analysé dans sa globalité. Cette approche consiste à concevoir à la fois ce qu'il se passe sur l'écran à la diffusion, et derrière la caméra lors du tournage. Il s'agit de combiner l'analyse filmique et la réalisation technique du film qui témoignent des intentions du réalisateur et de l'ensemble de l'équipe technique pour représenter l'histoire. L'utilisation des guerres de Religion au cinéma demande un certain travail sur la manière de mettre en scène l'époque du 16e siècle. Ce travail consiste à la manière de concevoir les décors, les costumes, les musiques et les dialogues, traduisant la mise en scène recherchée par le réalisateur.
Fichier principal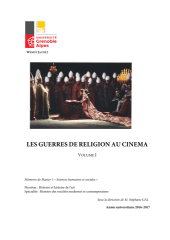 Jaunet_Wendy_Guerres_de_religion.pdf (1.28 Mo)
Télécharger le fichier
Origin : Files produced by the author(s)