La biologie de garage : une pratique non institutionnelle de la biologie
Biohacking, or DIY biology, is the practice of biology outside of traditional – academic or business – research settings, including by non-professionals. This thesis is composed firstly of an explanatory segment, that presents the phenomenon of DIYbio, its origins and the safety and ethical issues it raises, as well as a more practical view on how biohacking labs operate and what they do. The second part is the translation of two academic works detailing, first, DIYbio in the USA and in Europe, and second, how the same phenomenon is represented in Asia. Finally, the thesis ends with a terminological analysis and a glossary.
La biologie de garage, appelée aussi biohacking ou biologie DIY consiste en la pratique de la biologie en-dehors des lieux habituels que sont les laboratoires de recherche académiques ou d'entreprise, en particulier par des amateurs. Le présent mémoire se compose d'un exposé consacré dans un premier temps à l'explication de ce phénomène et de ses origines ainsi qu'aux questions de sécurité et d'éthique qu'il soulève, puis aux aspects concrets de la biologie de garage et au fonctionnement et aux activités des groupes qui le constituent. Deux ouvrages sont ensuite traduits de l'anglais, qui présentent la biologie de garage aux États-Unis et en Europe pour l'un, et en Asie pour l'autre. La partie finale du mémoire est une analyse terminologique, constituée notamment d'un glossaire.
Fichier principal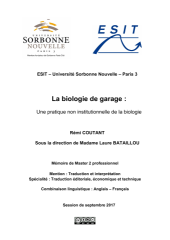 Mémoire RC - biologie de garage_publication.pdf (6.45 Mo)
Télécharger le fichier
Origin : Files produced by the author(s)