La dématérialisation dans les processus internes et externes d'un cabinet de géomètre-expert : futur proche ou utopie ?
This essay aims at diving into the legal basis in terms of electronics and offering a fresh perspective on dematerialisation within the land surveyor workfield. While digital written has the same convincing value than paper written, digital signature tends to grow and make itself an essential tool for dematerialisation. Digital archiving is more and more efficient which largely boosts the dematerialisation movement. Two outcomes are layed out in this thesis. One makes "Géofoncier" the very heart of the profession particularly by opening a customer access and the other places offices' software as core to the life span of a file. The former is available to the willing office as of today while the first needs a countrywide impulsion to homogenise pratices. Solutions do exist. Dematerialisation of our offices is possible and land surveyors must be driving evolution in the profession.
L'objectif de ce travail de recherche est d'analyser les bases juridiques en matière d'électronique et de proposer un regard neuf sur la dématérialisation dans la profession de géomètre-expert. L'écrit électronique a même valeur probante que l'écrit papier et la signature électronique tend à se développer et à s'affirmer comme l'outil indispensable à la dématérialisation. L'archivage électronique est de plus en plus performant, ce qui doit dynamiser encore davantage le mouvement de dématérialisation dans la profession. Deux scénarios sont imaginés dans ce mémoire, l'un faisant de Géofoncier le coeur de la profession en ouvrant un accès client notamment, l'autre plaçant le logiciel d'affaire du cabinet au centre de la vie d'un dossier. Le premier demande une impulsion nationale pour homogénéiser les pratiques, tandis que le second est accessible au cabinet volontaire dès à présent. Les solutions existent, la dématérialisation de nos cabinets est possible et le géomètre-expert doit être moteur de son évolution.
Fichier principal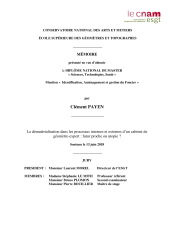 PAYEN Clement.pdf (966.2 Ko)
Télécharger le fichier
Origin : Files produced by the author(s)