Exposer l'art contemporain depuis les années 1960 : les statuts et les rôles des commissaires d'exposition
Exhibitions are at the centre of contemporary art activities. With the rise of the art market, the advent of fairs and biennials, the modernization of existing museums and the establishment of new places, exhibition curators are increasingly playing an important role in contemporary art. My research dissertation in the second year of a master's degree aims to analyse the statutes and roles of contemporary art curators on the artistic territory. It concludes that the curatorial professions are now experiencing a phase of professionalization and structuration. This work is multifaceted and depends on the institution and their mission. Versatility is the hard core of their curatorial activity. Thus, the barriers to entry into curatorial practices do not exist. Nevertheless, the major inequalities of remuneration, the difficulty to be paid for and lack of subsidies are the main obstacles to the activity. Characterized by social poly-identities, curators of contemporary art are overwhelmingly multi-active in the artistic and cultural fields, with four main profiles: museum professionals, independent curators, curators-critics and curators-artists. As an intermediary, they facilitate the translation and mediation of the artwork to the public. In addition, they also play an important role in a territorial development policy. Artists' friends, they contribute to the professionalization and mobility of artists in the art market through exhibition. This research opens the door, not only to present more precisely the current situation of curators, but also to discover their roles and status in the field of contemporary art. Research on curatorial professions allowed me to develop some fundamental ideas to study political constraints to curatorial activities. So I hope, in my future research, to analyse it more deeply at global level.
Les expositions sont au centre des activités artistiques contemporaines. Avec l'essor du marché d'art autonome, l'avènement des foires et des biennales, la modernisation des musées existants et l'établissement de lieux nouveaux, les commissaires d'exposition jouent de plus en plus un rôle important dans l'art contemporain. Mon mémoire de recherche en deuxième année de master vise à analyser les statuts et les rôles des commissaires d'exposition d'art contemporain sur le territoire artistique. Il en conclut que les métiers du commissariat connaissent maintenant une phase de professionnalisation et de structuration. Ce travail est multiforme et dépend de l'institution et de sa mission. La polyvalence est le noyau dur de l'activité curatoriale. Ainsi, les barrières à l'entrée dans les pratiques curatoriales n'existent pas. Néanmoins, les fortes inégalités de rémunérations, la difficulté à se faire rétribuer et manque de subventions sont les principaux freins à l'activité. Caractérisés par des polyidentités sociales, les commissaires d'art contemporain sont très majoritairement pluriactifs sur les champs artistique et culturel, dans lesquels figurent quatre profils principaux : professionnels de musée, commissaires d'exposition indépendants, commissaires-critiques et commissaires-artistes. En tant qu'intermédiaires, ils facilitent la traduction et la médiation de l'œuvre d'art au public. De plus, ils jouent aussi un rôle important dans le cadre d'une politique de développement territorial. Amis des artistes, ils contribuent à la professionnalisation et à la mobilité des artistes dans le marché de l'art par le biais d'expositions. Cette recherche ouvre la porte, non seulement pour présenter plus précisément la situation actuelle des commissaires d'exposition, mais aussi pour découvrir leurs rôles et statuts dans le domaine de l'art contemporain. La recherche sur le métier du commissariat m'a permis de développer quelques idées fondamentales pour étudier les contraintes politiques des activités curatoriales. J'espère donc, dans ma future recherche, l'analyser plus profondément à l'échelle mondiale.
Fichier principal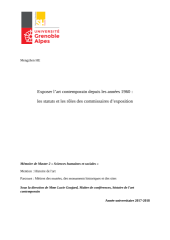 Mengzhen_HE_Exposer_l_art_contemporain.pdf (3.55 Mo)
Télécharger le fichier
Origin : Files produced by the author(s)