Les difficultés d'allaitement chez le nourrisson porteur de trisomie 21 et les pistes thérapeutiques
This literature review presents the breastfeeding difficulties encountered by mothers of children with Down Syndrome 21. The main difficulties identified are as follows: weak sucking, drowsiness, overall hypotonia, lack of mobility of the perioral and chewing muscles, narrow oral cavity. Despite these difficulties and considering the large benefits for the child and mother, it seems essential to support those mothers in order to initiate and/or maintain breastfeeding. Indeed, one of the main obstacles to breastfeeding according to those mothers is the lack of support and guidance from health professionals. The speech and language therapist could be a privileged interlocutor for the care of those children, integrated in a multidisciplinary care.
Cette revue de littérature présente les difficultés d'allaitement rencontrées par les mères d'enfants porteurs de trisomie 21. Les difficultés principales retenues sont les suivantes : faible succion, un état somnolent, une hypotonie globale, une manque de mobilité des muscles péribuccaux et masticateurs, une cavité buccale étroite. Malgré ces difficultés et au regard des larges bénéfices profitables à l'enfant et à la mère, il semble primordial d'accompagner ces mères afin de leur permettre d'initier et/ou maintenir l'allaitement. En effet l'un des principaux freins à l'allaitement chez ces mères, est le manque de soutien et d'accompagnement des professionnels de santé. L'orthophoniste pourrait être un interlocuteur privilégié dans le suivi de ces enfants, dans le cadre d'un suivi pluridisciplinaire.
Fichier principal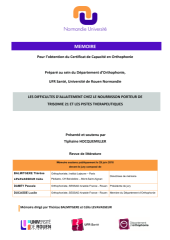 HOCQUEMILLER Tiphaine.pdf (4.76 Mo)
Télécharger le fichier
Origin : Files produced by the author(s)