Le voyage au Danemark au XVIIIe siècle (1670-1815) : entre Grand Tour et grand Nord
This dissertation is about the travels in Denmark during the 18th century. These travels are made by French and English travelers. What were their purposes when they traveled to Denmark? Why travel to Denmark? The country is between two worlds: the civilized Europe, where people travel for the Grand Tour - the German space, for instance, - and the North of Europe existing of some unknown places where almost nobody travel. This intermediary spot makes Denmark ignored by the historiography of traveling: not a lot of travelers went to Denmark or cared about the country. During the 18th century, it was a little country with not a lot of power compared to France or England. But Denmark had an empire all around the world: Norway, Island, Greenland, an island in Caribbean Sea as well as some places in Africa and in India belonged to Denmark. Also if not a lot of travelers went to Denmark, with 20 sources of travelers we look at what were the most interesting things to see in the country in the north. These sources also give us some indications about how the country was, how it worked, its population, its army, its advantages, etc. This dissertation gives a portrait of Denmark during the 18th century by the views of foreign travelers.
Ce mémoire s'intéresse aux voyages au Danemark au XVIIIe siècle. Ces voyages sont effectués par des voyageurs français et anglais. Quelles sont leurs buts en se rendant au Danemark ? Pourquoi voyagent-ils au Danemark ? Le Danemark se situe entre deux mondes, l'Europe civilisée caractérisée par le Grand Tour qui passe par le monde germanique, et le grand Nord, l'inconnu où peu de gens s'aventurent. Cette place intermédiaire en fait souvent un pays ignoré par l'historiographie du voyage, peu de voyageurs se rendent au Danemark qui n'intéresse pas grand monde. C'est au XVIIIe siècle un pays mineur à la faible puissance comparé à la France et à l'Angleterre. Pourtant le Danemark possède un empire dans le monde entier, la Norvège, l'Islande, le Groenland, une île dans les caraïbes, des comptoirs en Afrique et en Inde appartiennent à la couronne danoise. Bien que peu fréquenté, le Danemark attire quand même certains voyageurs, à travers 20 relations de voyages, nous regardons ce qui intéresse les voyageurs dans ce pays. Ces textes nous donnent également des indications sur l'état du pays, son fonctionnement, sa population, son armée, etc. Ce mémoire dresse un portrait du Danemark au XVIIIe siècle selon les voyageurs étrangers.
Fichier principal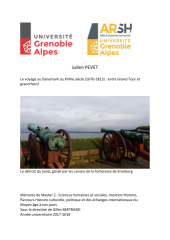 Julien_Pevet_Le_voyage_au_Danemark.pdf (4.69 Mo)
Télécharger le fichier
Origin : Files produced by the author(s)