Le blé, pétrole doré de la France : une matière première majeure pour l'influence française dans le monde ?
We will be almost 10 billion on Earth on 2050. The issues raised by this demographic challenge are many. Among them, the most important one: how humanity will be able to feed so many people? Wheat, which is at the heart of food security for a huge part of the world, will then be at the center of all concerns. It is already so: as the most traded cereal on the planet, wheat has historically been in the thick of many episodes of globalization. Today, its importance can be analyzed through both geoeconomics and geopolitics. How this agricultural raw material can participate to the France's influence in the world, Europe's wheat basket? How the States, especially through economic diplomacy, are trying to grow in strength on the "wheat planet", which is by now in total geopolitical recomposition?
Nous serons près de 10 milliards d'habitants sur la planète en 2050. Les problématiques posées par ce défi démographique sont nombreuses. Parmi elles, la plus importante : comment nourrir autant d'êtres humains ? Le blé, aliment au coeur de la sécurité alimentaire d'une grande partie du monde, sera alors au centre de toutes les préoccupations. Il l'est même déjà : en tant que céréale la plus échangée au monde, le blé fut, historiquement, le nerf de bien des épisodes de mondialisation. Aujourd'hui, son importance peut se lire au travers de la géoéconomie comme de la géopolitique. Comment cette matière première agricole peut-elle participer à l'influence dans le monde de la France, le grenier à blé de l'Europe ? Comment les États, notamment par le biais de la diplomatie économique, tentent de se faire une place sur la « planète blé », actuellement en pleine recomposition géopolitique ?
Fichier principal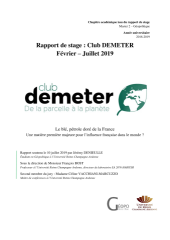 DENIEULLE_Jeremy_M2_Rapport de stage_2019.pdf (2.06 Mo)
Télécharger le fichier
Origin : Files produced by the author(s)