La construction du projet de naissance par les patientes en échange avec les professionnels de santé
Many authorities recommend to health professionals to encourage women to express their wishes for their delivery, and this for several years. So, it would be logic that the practice of the birth plan would be generalised to most of the population, and yet it is not. The birth plan is a reflection and the expression of the idea that the couple makes about the birth of their baby. Therefore, it allows to express the wishes of the couple by communicating with health professionals. In front of this practice still uncommon and not always accepted by the professionals, we wondered about the impact of the professionals met during the pregnancy. The main objective of our study was to analyse the impacts of the exchanges between the professionals and the patients about the construction of the birth plan. The second objective was to analyse the communication elements at play at this occasion. For that, we did a qualitative study from 8 women that had a birth plan, during semidirectives interviews. In majority, the exchanges with professionals do not lead to modifications of the birth plan from patients. On the other hand, the exchanges allowed to answer to the questions the patients had about their birth plan and above all it allowed to confirm their wishes for their delivery. We could also observe that patients talked more with liberal midwives et that they consider that the time devoted for them during their appointments at the maternity is not long enough.
Plusieurs instances recommandent aux professionnels de santé d'encourager les femmes à exprimer leurs souhaits pour leur accouchement. Il semblerait donc normal (moins de jugement que la version précédente ?) que la pratique du projet de naissance soit généralisé à une majorité de la population, et pourtant ce n'est pas le cas. Le projet de naissance est une réflexion et une expression de l'idée que se fait le couple de la naissance de son enfant. Il permet donc d'exprimer les souhaits du couple en communication avec les professionnels de santé. Face à cette pratique encore peu courante, nous nous sommes interrogés sur l'impact des professionnels rencontrés durant la grossesse sur la construction du projet de naissance. L'objectif principal de notre étude était donc d'analyser les impacts des échanges entre professionnels et patientes sur la construction du projet de naissance. Notre objectif secondaire était d'analyser les éléments de communication mis en jeu à cette occasion. Pour cela, nous avons mené une étude qualitative auprès de 8 femmes ayant un projet de naissance, au cours d'entretiens semi-directifs. Dans la majorité des cas, les échanges avec les professionnels n'entraînent pas de modifications du projet de naissance de la part des patientes. En revanche, ces échanges permettent de répondre aux questions que se posent les patientes à propos de leur projet de naissance et surtout de confirmer leurs souhaits pour leur accouchement. Nous avons également pu observer que les patientes échangeaient davantage avec des sages-femmes libérales et qu'elles considéraient que le temps qui leur était consacré en consultation en maternité n'était pas suffisant.
Fichier principal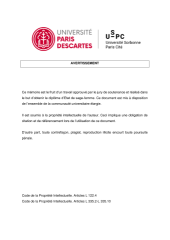 memoire_esfbaudelocque_Gaspar_Melanie_DUMAS.pdf (1001.17 Ko)
Télécharger le fichier
Origin : Files produced by the author(s)