L'analgésie péridurale : comparaison du souhait prénatal avec sa réalisation le jour de l'accouchement et étude du vécu des parturientes
Context: nowadays, 8 out of 10 women have an epidural wish. For the others, more and more projects of birth are formulated, with requests more personalized associated often with a refusal of the epidural. The closure of local level I maternity clinics, in connection with the lack of midwifery staff has led to more difficult management, which is out of step with women's expectations and their desire to D-day of delivery. Objective: this study aims to identify the circumstances in which the wish of these women has not been realized and qualify their experience of childbirth. The methodology is a phenomenological qualitative ap-proach. 10 patients were selected to perform semi-structured interviews in maternity layer follow-up services at all levels in the Bouches-du-Rhône (13) and Vaucluse (84) departments. Results: out of 10 patients, 1 primiparous and 8 multiparous wished an epidural that they did not have mainly because of the speed of work concomitant for certain to a rupture of water pocket. The unavailability or the delay of the anesthesiologist in connection with a strong activity in the birth room were the main cause of an epidural-free delivery... A single primiparous patient did not wish for an epidural. Despite the respect of her birth plan by the medical team, she asked it to face the difficulties encountered once the pain installed. These 10 women are still satisfied with this birth, lived as a challenge they have been able to do. The ability to plan for a possible future pregnancy is sometimes compromised for patients whose memory is still traumatic and too recent. Conclusion: the midwife has an indispensable role in maintaining the balance between the idea that the patient has of her delivery, with the unforeseen events of the D-day, such as the circumstances of the work and a busy activity of the obstetrical block, so that her care is as much as possible in keeping with what actually she wanted... In response to the new recommendations of the CNGOF and HAS, birthing centers are the future project to develop so that women's expectations will be more and more respected...
Contexte : de nos jours, 8 femmes sur 10 ont un souhait de péridurale. Pour les autres, de plus en plus de projet de naissance sont formulés, avec des demandes plus personnalisées associées souvent à un refus de la péridurale. La fermeture des maternités de niveau I de proximité en lien avec le manque d'effectif des sages-femmes, sont à l'origine d'une prise en charge plus difficile et en décalage par rapport aux attentes des parturientes et de leur souhait formulé le jour J de l'accouchement. Objectif : cette étude a pour but d'identifier les circonstances dans lesquelles le souhait de ces parturientes ne s'est pas réalisé et de qualifier le vécu de l'accouchement de ces femmes. La méthodologie est une approche qualitative phénoménologique. 10 patientes ont été sélectionnées pour réaliser des entretiens semi-directifs dans les services de suites de couches de maternités de tous niveaux confondus du département des Bouches-du-Rhône (13) et du Vaucluse (84). Résultats : sur 10 patientes, 1 primipare et 8 multipares souhaitaient une péridurale qu'elles n'ont pas eu principalement à cause de la rapidité du travail concomitante pour certaine à une rupture de la poche des eaux. L'indisponibilité ou le retard de l'anesthésiste en lien avec une forte activité en salle de naissance ont été pour la plupart, la cause d'un accouchement sans péridurale... Une seule patiente primipare ne souhaitait pas de péridurale. Malgré le respect de son projet de naissance par l'équipe médicale, elle l'a demandé face aux difficultés rencontrées une fois la douleur installée. Ces 10 femmes restent néanmoins satisfaites de cet accouchement, vécu comme un défi qu'elles ont pu relever. La capacité à se projeter pour une éventuelle prochaine grossesse est parfois compromise pour les patientes dont le simple souvenir est encore traumatique et trop récent. Conclusion : la sage-femme a un rôle indispensable de maintien de l'équilibre entre l'idée que la patiente a de son accouchement, avec les imprévus du jour J, comme les circonstances du travail et une activité chargée du bloc obstétrical, afin que sa prise en charge reste le plus possible en accord avec ce qu'elle souhaitait... En réponse avec les nouvelles recommandations du Collège National des Gynécologues et Obstétriciens Français (CNGOF) et de la Haute Autorité de Santé (HAS), les maisons de naissance sont le projet d'avenir à développer pour que les attentes des femmes soient de plus en plus respectées...
Fichier principal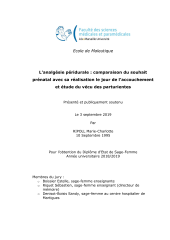 RIPOLL_ANALGESIE_PERIDURALE.pdf (1002.62 Ko)
Télécharger le fichier
Origin : Files produced by the author(s)