Parentalité et accompagnement des bénéficiaires du don de gamètes
Practising the gamete donations has been overly questioned and has aroused anxiety among public opinion. Several interviews with children born thanks to gamete donations have divided the same public opinion. But what about the parents who chose gamete donations? What do they think and how do they feel? Our following research is aiming to name the medical cares needed and the obstacles to be overcome by these parents, We have interviewed seven couples, six of them have been given sperm, one oocytes. Their children are between eight months and seven years old. We have discussed with them their experiences and needs during their M.A.P. (Medical Assistance to Procreation), their pregnancies, their childbirths, the first days and years of their children's lives. We have found that their experiences as parents are different from one couple to another. What they globally have in common is their wish to be as close as possible to what is natural after so much medical assistance. The medical cares that can be given during such a « precious » pregnancy are all the more important. So are the recurrent questions such as: how and when can these parents tell their children how they were born? At every stage, the medical staff's support and knowledge are important to help these couples and their children whose births' origins remain the love of two people.
La pratique du don de gamète soulève de nombreuses interrogations et inquiétudes. Plusieurs témoignages provenant d'enfants issus du don ont été réalisés et ont créé de multiples polémiques. Mais que ressentent les parents à l'origine de cette démarche ? Cette étude a été réalisée avec pour objectif d'identifier les besoins d'accompagnement ainsi que les obstacles rencontrés par les bénéficiaires du don de gamètes. Des entretiens semi-directifs ont été réalisés auprès de sept couples, six d'entre eux ayant bénéficié d'un don de sperme et un du don d'ovocyte, avec des enfants âgés de huit mois à sept ans. Le vécu et les besoins lors du parcours d'Aide Médical à la Procréation (AMP), de la grossesse, de l'accouchement, du post-partum et des premières années de vie de l'enfant ont été évoqués. Les résultats démontrent un vécu et une parentalité différente selon les couples. De manière générale, ils souhaitent s'approcher au plus près de la physiologie après toute cette médicalisation. L'accompagnement de cette grossesse « précieuse » a donc toute son importance. De plus, certaines interrogations sont récurrentes, par exemple : comment et quand annoncer son mode de conception à son enfant ? Dans toutes ces étapes, le soutien et la connaissance du personnel soignant a son importance pour accompagner au mieux ce couple et cet enfant, dont l'origine restera l'amour de deux personnes.
Fichier principal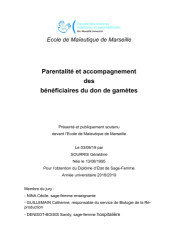 SOURRIS_BENEFICIAIRES_DON_GAMETES.pdf (927.91 Ko)
Télécharger le fichier
Origin : Files produced by the author(s)