Représentations françaises de la Nouvelle-France au XVIIe siècle : mobilités et conditions de vie
New France during the 17th century is a distant and still unknown territory. However, many French decide to try the adventure on the other side of the Atlantic. Who were they and why do they leave their native country for another ? On the contrary, why some people abandon definitively the colony ? These migrations between the colony and France enable to know it better and to understand the identity and the motivations of migrants. Some of these people having treaded the Canadian lands, decide to share their experience in books published in France. What were the representations of the Canada ? Were they transformed for not to shock or where they the truest possible ? The looks of this travelers, conditioned by many factors of the territory, translate their feelings of their American experience. Fascinations, motivations and fears stand out of their stories. For that, books on New France, 17th century press and correspondence maintained between France and its colonie feed this study. Its have for objective to retranscribe the double image at the same time positive and negative of New France and to understand its influence on the migrations to this one.
La Nouvelle-France au cours du XVIIe siècle est un territoire lointain et encore inconnu. Pourtant de nombreux Français décident de tenter l'aventure de l'autre côté de l'Atlantique. Qui étaient-ils et pourquoi quittent-ils leur pays d'origine pour un autre ? Au contraire, pourquoi certaines personnes abandonnent-elles définitivement la colonie ? Ces migrations entre la colonie et la France permettent de mieux connaître ce territoire et de comprendre l'identité et les motivations de ces migrants. Certaines de ces personnes ayant foulé les terres canadiennes décident de partager leur expérience au sein d'ouvrages publiés en France. Quelles étaient les représentations du Canada ? Étaient-elles transformées pour ne pas choquer ou étaient-elles le plus véridique possible ? Le regard de ces voyageurs, conditionné par de nombreux facteurs du territoire, traduisent leur ressenti de leur expérience américaine. Fascinations, motivations et craintes ressortent de leurs récits. Pour cela, ouvrages relatifs à la colonie, presse du XVIIe siècle et correspondance entretenue entre la France et sa colonie nourrissent cette étude. Elle se donne pour objectif de retranscrire la double image à la fois positive et négative de la Nouvelle-France et de comprendre son influence sur les migrations vers celle-ci.
Fichier principal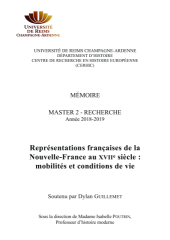 GUILLEMET_M2_Histoire_2019.pdf (6.01 Mo)
Télécharger le fichier
Origin : Files produced by the author(s)