How online writing platforms Scribay, Wattpad and Fyctia allow the amateur authors to be known by being a springboard in order to become writers?
Dans quelles mesures, les plateformes d'écriture en ligne Scribay, Wattpad et Fyctia permettent-elles de faire connaître les auteurs amateurs en leur servant de tremplin vers le métier d'écrivain ?
Nowadays, amateur writers write on online writing platforms in search of success. This work focuses on the study of the most used platforms, namely Wattpad, Fyctia and Scribay, in order to understand how they help amateur authors to become writers. Can they find success with these devices? What skills are needed to access the recognition of this title? How is it possible to acquire these skills on thoses platforms? Does this recognition go beyond Wattpad, Fyctia and Scribay? The study of the platforms and the interviews of authors reveal that if it serve as a world of consolation for some, they allow, in a certain way, to improve in the writing or failing that, to motivate the authors to write. But can we consider that a successful author on writing platforms is comparable to a writer?
De nos jours, les auteurs amateurs écrivent sur des plateformes d'écriture en ligne à la recherche du succès. Ce mémoire porte sur l'étude des plateformes les plus utilisées, à savoir Wattpad, Fyctia et Scribay, afin de comprendre dans quelles mesures elles aident les auteurs amateurs à devenir des écrivains. Peut-on connaître le succès grâce à ces dispositifs ? Quelles sont les compétences nécessaires pour accéder à la reconnaissance de ce titre ? Dans quelles mesures est-il possible d'acquérir ces compétences sur les plateformes ? Cette reconnaissance dépasse-t-elle Wattpad, Fyctia et Scribay ? L'étude des plateformes et les entretiens d'auteurs révèlent que si elles servent d'univers de consolation pour certains, elles permettent, dans une certaine mesure, de s'améliorer dans l'écriture ou à défaut, de motiver les auteurs à écrire. Mais peut-on estimer qu'un auteur à succès sur les plateformes d'écriture est assimilable à un écrivain ?
Fichier principal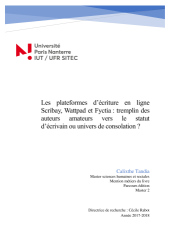 TANDIA_Mémoire Calixthe Tandia.pdf (2.32 Mo)
Télécharger le fichier
Origin : Files produced by the author(s)