Place de l'acupuncture dans la prise en charge des maux de la grossesse
Introduction: pregnancy is a particular physiological condition. Metabolism is altered, and women often develop disorders called "small pregnancy ills". These can be major disabling elements. To deal with these inconveniences, classical medicine lacks solutions. The aim of this work is to evaluate the contribution of acupuncture as a complementary medicine. Population and method: this is a cross-sectional descriptive study of patients who have performed acupuncture sessions to manage minor pregnancy disorders. Multicenter study in the department of Puy-de-Dôme, from September 20 to December 20, 2018. Results: thus, 79 questionnaires were analyzed. Pregnancy disorders cover the entire pregnancy with a marked increase in the third trimester. 87% describe pregnancy disorders as bothersome, 60% describe them as difficult to tolerate. 58% consider acupuncture management effective. 90% believe that acupuncture has helped them to live their pregnancy better. Discussion: we note a real interest of women in acupuncture which is effective and beneficial in treating pregnancy disorders. And yet despite the recommendations of the Health Authorities, there is a lack of information and knowledge among women for its use in obstetrics and gynecology. Conclusion: acupuncture is a complementary and non-competing response to the therapeutic arsenal of Western medicine. It opens up a broader approach to patient management. Chinese medicine can enrich Western medicine with its vision of Man and thus improve the quality of care.
Introduction : la grossesse est un état physiologique particulier. Le métabolisme est modifié et souvent apparaissent chez les femmes des troubles appelés « petits maux de la grossesse ». Ces derniers peuvent s'avérer être des grands maux handicapants. Pour prendre en charge ces désagréments la médecine classique manque de solutions. L'objectif de ce travail est d'évaluer l'apport de l'acupuncture comme médecine complémentaire. Population et méthode : il s'agit d'une étude descriptive transversale, auprès de patientes ayant réalisées des séances d'acupuncture pour prendre en charge les petits maux de la grossesse. Étude multicentrique dans le département du Puy-de-Dôme, du 20 septembre au 20 décembre 2018. Résultats : ainsi, 79 questionnaires ont été analysés. Les maux s'étendent sur toute la grossesse avec une nette augmentation au troisième trimestre. 87 % décrivent les maux de la grossesse comme gênants, 60 % les décrivent comme difficilement supportables. 58 % jugent la prise en charge par acupuncture efficace. 90 % estiment que l'acupuncture les a aidées à mieux vivre leur grossesse. Discussion : nous constatons un véritable intérêt des femmes pour l'acupuncture qui se révèle efficace et bénéfique face aux maux de la grossesse. Et pourtant malgré les recommandations des Autorités de Santé, il existe un manque d'information et de connaissances des femmes pour son utilisation en obstétrique et gynécologie. Conclusion : l'acupuncture est une réponse complémentaire et non concurrente à l'arsenal thérapeutique de la médecine occidentale. Elle ouvre une approche plus vaste de la prise en charge des patientes. La médecine chinoise peut enrichir la médecine occidentale de sa vision de l'Homme et permettre ainsi d'améliorer la qualité des soins.
Fichier principal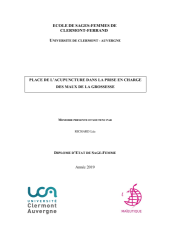 2019-MSF-Richard-L.pdf (1.49 Mo)
Télécharger le fichier
Origin : Files produced by the author(s)