La place de la psychomotricité dans le renforcement de l'enveloppe psycho-corporelle chez des enfants porteurs de troubles du spectre autistique
The child's psychomotor development normally leads to the formation of an individual dif-ferentiated from the others, allowing him to acquire the ''I''. The functions of containing, main-tenance, pare-excitment and individualization are essential for the child, to build a psycho-cor-poral envelope that allows him to feel safe in their body and mind.
However, in some pathologies like autism, this construction is hampered, disrupting the children's development. The envelopes' failure manifests in different behaviors, such as the need to be wrapped up, to slip into small spaces or to build playhouses. It then becomes essential to implement a psychomotor therapy to support their restructuration, through mediations improving some functions that are lacking for those children. We can use wraps, carrying, playhouses or pressures under a mat. I had the opportunity to experiment those techniques with Hector, Abel and Rémi during my internship. Throughout the year I observed the different effects on those children with Autism Spectrum Disorders.
Le développement psychomoteur de l'enfant aboutit normalement à la formation d'un individu différencié des autres, lui permettant d'acquérir le ''Je''. Les fonctions de contenance, maintenance, pare-excitation et individuation sont indispensables pour que l'enfant se construise une enveloppe psycho-corporelle qui lui permette de se sentir en sécurité dans sa tête et dans son corps.
Cependant, dans certaines pathologies comme l'autisme, cette construction est entravée, bouleversant le développement psychomoteur des enfants. La défaillance des enveloppes se manifestent par divers comportements, comme le besoin d'être enveloppé, de se glisser dans des petits espaces ou encore de construire des cabanes. Il est alors essentiel de mettre en place une thérapie psychomotrice pour accompagner leur restructuration, par l'intermédiaire de médiations qui jouent le rôle de certaines fonctions, défectueuses chez ces enfants. Nous pouvons utiliser les enveloppements, le portage, les cabanes ou encore les pressions sous un tapis. J'ai eu l'opportunité de les expérimenter cette année avec Hector, Abel et Rémi lors de mon stage. Tout au long de l'année, j'en ai observé les différents effets chez ces enfants porteurs de troubles du spectre autistique.
Fichier principal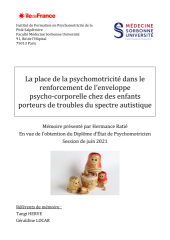 26_MEM_PSYCHOMOT_2021_RATIE_Hermance.pdf (1.2 Mo)
Télécharger le fichier
Origin : Files produced by the author(s)