L'élection présidentielle de 2017 à travers la candidature de François Fillon et l'étude de la presse réunionnaise du 1er au 15 février 2017
This Master's dissertation focuses on a topic of contemporary history. It is a university work intending to analyze the French presidential campaign of 2017, more precisely the campaign of the right-wing candidate François Fillon and his coming to Reunion Island from February 11 to February 13, 2017. Through the study of these two Reunionese press organs, Le Quotidien and Le Journal de l'île (JIR), the work will be centered on François Fillon, leader of the French Republican party. The journalistic documents, published from February 1st to February 15th, 2017, have been decrypted in order to produce an analytical discourse. The former prime minister of Nicolas Sarkozy came in the overseas department of Reunion, after an early February disturbed by the tax revelations published by Le Canard Enchaîné. The chief candidate of the right had to give a new breath to his campaign and Reunion island seemed the ideal destination thanks to its pool of votes and its elected right-wing members. Many questions have guided the reflection and the writing of this thesis. Why did Mr. Fillon choose Reunion Island and not another French overseas territory? How did the local press treat the upstream phase of his visit and describe his 3 days of travel? Who were his supporters and opponents? How did the two Reunionese newspapers inform the local electorate and describe this politician? ... Through these various questions linked to the decoding of the local press, Le Quotidien and Le JIR, this Master's thesis tries to answer and go beyond the events that consisted in the visit of François Fillon to Reunion island at the time of the French 2017 presidential campaign.
Ce mémoire de Master s'intéresse à un sujet d'Histoire contemporaine. C'est un travail universitaire destiné à analyser la campagne présidentielle française de 2017, plus précisément celle du candidat de la droite François Fillon et sa venue à La Réunion du 11 au 13 février 2017. Par l'étude de ces deux organes de presse réunionnais, Le Quotidien et Le Journal de l'Île de La Réunion (JIR), le travail sera centré sur François Fillon, leader du parti Les Républicains. Les documents journalistiques, publiés du 1er au 15 février 2017, ont été décryptés afin de produire un discours analytique. L'ancien Premier ministre de Nicolas Sarkozy vient dans le département ultramarin, après un début de mois de février perturbé par les révélations fiscales du Canard enchaîné. La tête de liste de la droite doit redonner un nouveau souffle à sa campagne et La Réunion semble être la destination idéale grâce à son vivier de voix et ses ténors. De nombreuses questions orientent la réflexion et la rédaction de ce mémoire. Pourquoi M. Fillon choisit-il La Réunion et non un autre territoire d'Outre-mer ? Comment la presse locale traite-t-elle l'amont de sa visite et décrit-elle ses 3 jours de déplacements ? Quels sont ses soutiens et ses opposants ? Comment les deux journaux réunionnais informent-ils l'électorat local et décrivent-ils cet homme politique ? … Par ces divers questionnements liés au décodage de la presse locale, Le Quotidien et Le JIR, ce mémoire de Master tente d'y répondre et d'aller au-delà de l'évènementiel qu'a été la visite de François Fillon à l'île de La Réunion en pleine campagne présidentielle.
Fichier principal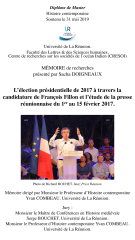 Mémoire Sacha DOIGNEAUX_dumas.pdf (2.49 Mo)
Télécharger le fichier
Annexes mémoire Tableauxgraphiques DOIGNEAUX S.pdf (295.82 Ko)
Télécharger le fichier
Origin : Files produced by the author(s)