Non-timber forest products exploitation and limits to tackle deforestation
LoRiscales, Afro-Colombian community in Chocó region of Colombia, is characterized by geographical isolation and institutional abandonment. The result is an economic development ecologically unsustainable with increasing deforestation drivers. Faced with this consequence, Los Riscales general community council is partnering with ICCO Cooperation to find an economic, social and environmental sustainable solution. Based on a participatory methodology, different solutions have been defined in order to solve a problem with transversal thematic. Non-timber forest products (NTFPs) exploitation is one of the outcomes of this alliance. The concrete formulation of this initiative through bibliographic work also raises its limits brining up a reflection on REDD+ mechanism and its resolve conflicts capacity at local level.
Los Riscales, communauté afro-colombienne dans la région du Chocó en Colombie, se caractérise par un isolement géographique et un abandon institutionnel. Il en résulte un développement économique non-viable, d'un point de vue écologique, avec l'augmentation des causes de déforestation. Face à cette conséquence, le conseil communautaire général de Los Riscales s'allie avec ICCO Cooperation afin de trouver une solution durable d'un point de vue économique, social et environnementale. Basé sur une méthodologie participative, différentes solutions ont été définies afin de résoudre un problème aux thématiques transversales. L'exploitation de produits forestiers non ligneux (PFNL) est un des résultats de cette alliance. La formulation concrète de cette initiative au travers d'un travail bibliographique soulève également ses limites. Elles renvoient à une réflexion sur le mécanisme REDD+ et sa capacité à résoudre des conflits à niveau local.
Fichier principal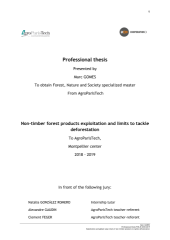 GOMES_2019.pdf (2.48 Mo)
Télécharger le fichier
Origin : Files produced by the author(s)