L'entretien comme expérience transformative : pour une diffusion de l'enquête pragmatiste par l'entretien
Interview is now a common institutionalised practice in different contexts and for different purposes. It has to do with enquiry in the general sense of the term, i.e. an intellectual process by which agents conduct indepth research in order to obtain information or address a question that may need to be answered. In this manner, interview involves the beliefs, knowledge and opinions of individuals as well as a relationship between them. Like any communication process, interview can be used for domination as well as for conflict resolution. Because of these characteristics, interview has been subject to different conceptions to date. This research aims to explore the epistemic and ethical issues at stake in the interview in order to establish the conditions under which an interviewcan be a transformative experience. By adopting a theoretical and methodological framework based on the pragmatist philosophy of John Dewey, we propose a path that examines different practices and philosophical conceptions of the spoken exchange to show, on the one hand, how the epistemic dimension of an exchange is partly subordinated to its ethical dimension and, on the other hand, how the experimental approach of certain practices conditions the lived experience of the participants. From these lines of research we propose to follow two hypotheses: the dialogic as an ethical principle and the problematic as an epistemic principle. We then test these hypotheses by modelling the verbal interaction constituted by the interview in order to identify the processof problematisation as an experimental approach that guarantees that an interview can constitute a transformative experience. This dissertation thus aims to contribute to the transformation of a practice that is widely used in our society today, while at the same time contributing to the dissemination of pragmatist enquiry through the interview.
L'entretien est aujourd'hui une pratique institutionnalisée très répandue et ce dans différents contextes et pour différents objectifs. Il a à voir avec une enquête dans le sens général du terme, c'est-à-dire un démarche intellectuelle par laquelle les agents mènent une recherche approfondie dans le but d'obtenir une information ou de traiter une question pour laquelle il peut être nécessaire d'apporter une réponse. En ce sens, l'entretien met en jeu les croyances, les connaissances et les opinions des interlocuteurs en même tant qu'il engage une relation entre eux. Comme tout processus de communication l'entretien peut servir à la domination aussi bien qu'à la résolution des conflits. Ces caractéristiques font qu'à ce jour l'entretien est soumis à différentes conceptions. Cette recherche se propose d'étudier les enjeux de nature épistémique et éthique de l'entretien dans le but d'établir les conditions selon lesquelles un entretien peut constituer une expérience transformative. En adoptant un cadre théorique et méthodologique basé sur la philosophie pragmatiste de John Dewey, nous proposons un parcours qui examine différentes pratiques et conceptions philosophiques de l'échange parlé pour montrer d'une part, en quoi la dimension épistémique d'un échange est en partie subordonnée à sa dimension éthique et, d'autre part, comment la démarche expérimentale de certaines pratiques conditionne l'expérience vécue des participants. À partir de ces pistes de recherche nous proposons de suivre deux hypothèses : le dialogique comme principe éthique et le problématique comme principe épistémique. Nous testons ensuite ces hypothèses à travers une modélisation de l'interaction verbale constituée par l'entretien afin d'identifier le processus de problématisation comme démarche expérimentale garantissant qu'un entretien puisse constituer une expérience transformative. Ce mémoire souhaite ainsi contribuer à transformer une pratique aujourd'hui largement utilisée dans notre société tout en participant à la diffusion de l'enquête pragmatiste par l'entretien.
Fichier principal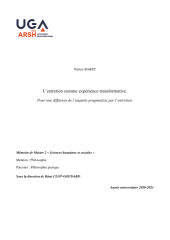 Baret Patrice - L'entretien comme expérience transformative.pdf (1.4 Mo)
Télécharger le fichier
Origin : Files produced by the author(s)