Constraint and constrained mobility: a challenge for disadvantaged neighbourhoods
Une mobilité contrainte et contraignante : un enjeu pour les quartiers défavorisés
The will of public policies to work for the mobility of inhabitants of disadvantaged neighbourhoods comes up against a lack of knowledge on the subject, complicating its proper implementation.
We first conduct a literature review, which shows that mobility is quite atypical in the neighbourhoods of the priority district of French city policy (QPV). A priori contracted, it is on the contrary over developed when it comes to constrained motives, such as work. The modal split is also different, with a prevalence of the most affordable modes.
This singular practice of mobility is linked to constraints specific to the QPV. We differentiate between two types of constraints: those of at an individual scale, with one aspect relating to the values of individuals and another to their limited economic resources; and constraints relating to space, its forms and the way within the society is organised.
The references are scattered in various fields of study, forcing us to extend the scope of the analysis to broader horizons. This also indicates the truth of the starting assumption about a lack of knowledge.
Thus, to complete the research on mobility in disadvantaged neighbourhoods we present, as a second step, the outline of the methodology to be followed for a project wishing to address it. Based on an example of data analysis and on ten interviews conducted with the main French researchers on related issues but, also with actors in this field we imagine a hybrid method straddling between quantitative and qualitative, which results could benefit from a scientific as well as operational scope.
La volonté des politiques publiques d'œuvrer pour la mobilité des habitants des quartiers défavorisés se heurte à un manque de connaissance en la matière, compliquant sa bonne mise en pratique.
Nous réalisons en premier lieu une revue de littérature, qui montre que la mobilité est bien atypique dans les quartiers prioritaires de la politique de la ville (QPV). A priori contractée, elle serait à contrario surdéveloppée lorsqu'il s'agit de motifs contraints, comme le travail. La répartition modale s'y distinguerait également, avec une prévalence des modes les moins onéreux.
Cette pratique singulière de la mobilité est liée à des contraintes propres aux QPV. Nous différencions deux types de contraintes : celles d'ordre individuel, avec un aspect sur les valeurs des individus et un autre sur leurs faibles moyens économiques ; et les contraintes renvoyant à l'espace, ses formes, et la manière dont la société s'y organise.
Les références sont disséminées dans divers domaines d'études, nous obligeant à étendre le champ de l'analyse à des horizons plus larges. Cela dénote également de la véracité du postulat de départ d'une connaissance à approfondir.
Ainsi, pour compléter la recherche sur la mobilité dans les quartiers défavorisés, nous présentons dans un second temps l'esquisse de la méthodologie à suivre pour un projet désireux de s'y intéresser. Nous appuyant sur un exemple d'analyse de données et sur dix entretiens menés avec les principaux chercheurs français de questions connexes, mais aussi des acteurs de terrain, nous imaginons une méthode hybride, à cheval entre quantitatif et qualitatif, et dont les résultats pourraient bénéficier d'une portée autant scientifique qu'opérationnelle.
Fichier principal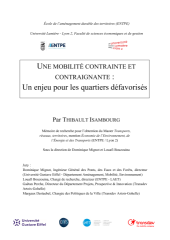 Thibault_Isambourg_Memoire_M2_TRT.pdf (12.87 Mo)
Télécharger le fichier
Origin : Files produced by the author(s)