Guide de réalisation d'un plan de gestion en zone humide : approche phytosociologique. Cas d'étude : site Natura 2000 « Prairies, Marais et Bois alluviaux de la Bassée » de Maizières-la-Grande-Paroisse
Wetlands are still under great threat in France. However, these environments are of great importance for the functionality of the ecosystem: they play an important role in recharging the water table, they are major regulators of water pollution and extreme climatic events (floods, droughts), and are important reservoirs of biodiversity. Their degradation and disappearance would lead to a disruption of the ecosystem with negative consequences for the environment, biodiversity but also for humans. Therefore, it is important to restore and protect these environments whenever possible. The creation of a management plan is part of this approach and helps managers to understand their natural areas and to build a management system adapted to them. The aim of this thesis is to gather existing informations on wetlands and to propose a method to help write a management plan for this type of habitat using the case study of the Maizière-la-Grande-Paroisse site.
Les zones humides sont des milieux très menacés sur le territoire français. Pourtant ils sont très importants pour le fonctionnement de l'écosystème : ils jouent un rôle non négligeable dans la recharge des nappes phréatiques, sont des régulateurs majeurs de la pollution des eaux et des événements climatiques extrêmes (inondations, sécheresses, ...), et sont des réservoirs de biodiversité. Leur dégradation et leur disparition entraîneraient un dérèglement de l'écosystème donc des conséquences négatives pour l'environnement, la biodiversité mais aussi pour l'Homme. C'est pourquoi il est important de protéger et restaurer ces milieux dès que cela est possible. La réalisation d'un plan de gestion s'inscrit dans cette démarche en permettant d'aider les gestionnaires à comprendre leur site et à construire une gestion adaptée à ceux-ci. Le but de ce mémoire est de regrouper les informations existantes sur les zones humides et de proposer une méthode d'aide à la rédaction de plan de gestion pour ce type de milieu en utilisant le cas d'étude du site de Maizières-la-Grande-Paroisse.
Fichier principal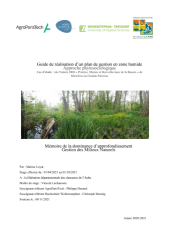 2021_Loyat_Marine_GMN.pdf (21.28 Mo)
Télécharger le fichier
Origin : Files produced by the author(s)