Place de la sage-femme dans la prise en charge des développements sexuels différents en maternité
Objective The main objective of this study was to show that midwives are at the forefront of DSD diagnoses, and that it is necessary to implement a protocol for maternity care in these situations to improve professional practice. The secondary objective was to provide an exhaustive description of DSD cases observed in a type 3 maternity hospital. Method We conducted a single-center retrospective descriptive case-control study, with collection of medical data from computerized files (years 2015 to 2018) or paper files (years 2019 and 2020) in the maternity of the Centre Hospitalier de Poissy-Saint-Germain, the only type 3 perinatal center in the Yvelines, France. Results We collected 95 newborns with external genitalia anomaly at birth. Seven had been able to benefit an antenatal diagnosis. The diagnosis was made at birth for 82.6% of the newborns, including 45.3% of anomalies detected by a midwife. We compared these 95 newborns with 200 control newborns. We did not find any obvious antenatal characteristics that would have allowed us to anticipate the medical care. Conclusion It is the midewife's responsibility to screen for DSD at birth. We propose a decision tree to assist midwives in the management of a newborn with an external genitalia anomaly at birth.
Objectifs L'objectif principal de cette étude était de montrer que les sages-femmes sont en première ligne des diagnostics de DSD, et qu'il est nécessaire d'implémenter un protocole de la conduite à tenir en maternité dans ces situations afin d'améliorer la pratique professionnelle. L'objectif secondaire était de réaliser une description exhaustive des cas de DSD observés dans une maternité de type 3. Méthode Nous avons réalisé une étude monocentrique rétrospective descriptive de type cas/témoins, avec recueil de données médicales sur dossiers informatisés (années 2015 à 2018) ou papiers (années 2019 et 2020) dans la maternité du Centre Hospitalier de Poissy-Saint-Germain, unique centre périnatal de type 3 dans les Yvelines. Résultats Nous avons recueilli 95 nouveau-nés porteurs d'une anomalie des OGE à la naissance. Sept avaient pu bénéficier d'un diagnostic anténatal. Le diagnostic a été fait à la naissance pour 82,6% des nouveau-nés dont 45,3% des anomalies dépistées par une sage-femme. Nous avons comparé ces 95 nouveau-nés à 200 nouveau-nés témoins, sans retrouver de caractéristique anténatale évidente permettant d'anticiper la prise en charge. Conclusion Il revient à la sage-femme de dépister les DSD à la naissance. Nous proposons un arbre décisionnel afin d'aider les sages-femmes à la prise en charge d'un nouveau-né porteur d'une anomalie des OGE à la naissance.
Fichier principal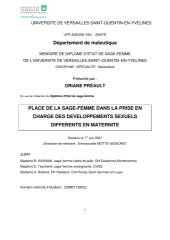 PREAULT_Oriane_2021.pdf (1014.1 Ko)
Télécharger le fichier
Origin : Files produced by the author(s)