Socialisation au management et construction du genre : monographie d'une grande école de commerce
This research work looks at the socialisation of students in a French business school and questions it through the prism of gender. Women represent half of the students in management schools. Given the influence of the business world on these courses and the professionalization objectives of the curricula, students trained in these schools experience a double socialization, to student life on the one hand, and to professional life on the other. Finally, many managers and company directors are graduates of a business school, which constitutes an initiatory passage and contributes to shaping a common culture. Analysing the socialisation of business school students therefore also means approaching the culture and common references shared by future managers and company directors, particularly from a gender perspective. The research was conducted qualitatively, through interviews, observations and analysis of documentary sources. The first chapter of the results analyses, based on a few key stages of the curriculum of the school under investigation, how students become future managers. The second chapter looks at the gender-based violence that students face in business school. Finally, the last chapter looks at the gendered dispositions that students acquire during their education.
Ce travail de recherche s'intéresse à la socialisation des étudiant-es dans une grande école de commerce française et la questionne au prisme du genre. Les femmes représentent la moitié des effectifs des écoles de management. Compte tenu de l'influence du monde des affaires sur ces formations et des objectifs de professionnalisation des cursus, les étudiant-es formé-es dans ces écoles y font l'expérience d'une double socialisation, à la vie étudiante d'une part, à la vie professionnelle d'autre part. Enfin, nombre de cadres et dirigeant-es d'entreprise sont diplômé-es d'une grande école de commerce, qui constitue un passage initiatique et contribue à façonner une culture commune. Analyser la socialisation des étudiant-es d'école de commerce, c'est donc aussi approcher la culture et les références communes partagées par les futur-es cadres et dirigeant-es d'entreprise, en particulier du point de vue du genre. La recherche a été conduite de manière qualitative, par entretiens, observations et analyse de sources documentaires. Le premier chapitre de résultats analyse, à partir de quelques étapes-clés du cursus de l'école objet de l'enquête, comment les étudiant-es deviennent de futur-es manageur-ses. Dans un deuxième temps sont abordées les violences de genre auxquelles les étudiant-es sont confronté-es en école de commerce. Enfin, le dernier chapitre s'intéresse aux dispositions sexuées que les étudiant-es acquièrent durant leur scolarité.
Fichier principal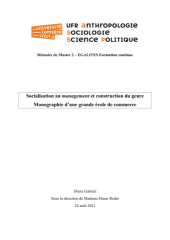 MEM2_DianeGabriel_2021.pdf (2.35 Mo)
Télécharger le fichier
Origin : Files produced by the author(s)