Mise en œuvre d'une salle d'intervention de type hybride au sein d'un établissement de santé
The hybrid operating room is an interventional room that combines the specification of a conventional surgery room with an interventional room, including a medical imaging system. From year to year, hybrid operating rooms have been introduced by the emergence of new imaging technologies which allow for the development of new surgery practices. These operating rooms are used in cardiac, thoracic, vascular, neuro, orthopedic or urology surgery and enable mini-invasive practices. These new surgical ways answer patient's direct needs by improving quality of treatment, which is what is at stake in hybrid operating room design. Nevertheless, designing such a structure requires coordination of the project by the biomedical engineer. As the implementation of a hybrid operating room raises many problems and involves different operators, such as the biomedical engineering team and the medical core, it can become difficult to implement. Many constraints must be taken into consideration when determining the feasibility of the project such as the cost and localisation of the room, the choice of the imaging and intervention equipment, the flow management of the staff, the liquid circuit or the ventilation. With a project of this size, the tool designed gives support to biomedical engineers in the design of a hybrid operating room within a healthcare facility. The tool draws up the key elements to develop the design of a hybrid operating room with success.
La salle hybride est une salle d'intervention qui associe les caractéristiques d'une salle de chirurgie dite conventionnelle à celle d'une salle interventionnelle, comprenant en général un système d'imagerie médicale. Depuis ces dernières années, l'introduction des salles hybrides a été permise par l'émergence des technologies d'imagerie permettant ainsi le développement de nouvelles pratiques chirurgicales. Elles sont utilisées en chirurgie cardiaque, thoracique, vasculaire, neurochirurgie, orthopédie, ou encore en urologie et permettent d'intégrer des pratiques mini-invasives. Ces nouvelles pratiques améliorent la qualité de soins, ce qui répond aux besoins actuels des patients : l'enjeu majeur de la conception de salles hybrides. Cependant, la conception d'une telle structure nécessite une coordination du projet par l'ingénieur biomédical. La mise en œuvre d'une salle hybride relève de nombreuses problématiques et implique différents acteurs, dont l'ingénierie biomédicale rendant le projet difficile à mettre en œuvre. Il faut prendre en compte de nombreuses contraintes déterminant la faisabilité du projet tel que le coût et la localisation de la salle, le choix de l'équipement d'imagerie et d'intervention, la gestion des flux du personnel, les circuits de fluides ou encore la ventilation. Face à un projet d'une telle ampleur, l'outil conçu permet l'accompagnement de l'ingénieur biomédical dans la conception d'une salle hybride au sein d'un établissement de santé. L'outil relève les éléments-clés pour mener à bien un projet de conception de salles hybrides.
Fichier principal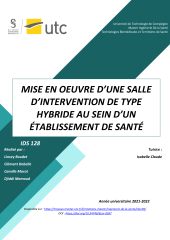 ids-128-lincey-boudet-clement-debelle-djiddi-mamoud-camille-marot-mim-4.pdf (1.51 Mo)
Télécharger le fichier
ids-128-lincey-boudet-clement-debelle-djiddi-mamoud-camille-marot-outil-daccompagnement-a-la-mise-en-oeuvre-dune-salle-hybride-1.pdf (1.74 Mo)
Télécharger le fichier
Origin : Files produced by the author(s)
Origin : Files produced by the author(s)