Les discours associatifs autour de l'autisme en ligne : entre conflictualité et institutionnalisation
In France, the public discourse on autism is almost solely carried by parent-led organizations. However, they are now confronted with the arising discourses of autistic-led organizations. This thesis aims to answer the following question: what are the characteristics of the discourses held by French associations focusing on autism on their websites? This work analyses the enunciation of eight french organizations from a perspective of Discourse Analysis. Beyond the common features bringing together those organizations together within one discursive formation, this work highlights some significant differences between the discourses held by those two groups. Thus, if the discourses of autistic-led organizations are militant and polyphonic, we observe the beginning of an institutionalization of the speeches held by parent-led organizations. This process led the latter to conceal the dissensions existing between them, autistic-led organizations and psychoanalysis. This work thus highlights an important transformation in the french public discourse held on autism in recent years.
En France, la parole publique sur l'autisme est presque exclusivement portée par des associations de familles. Cependant, elles se trouvent aujourd'hui confrontées aux discours de nouveaux acteurs émergents, les associations dirigées par des personnes elles-mêmes autistes. Ce mémoire s'attache à identifier les caractéristiques des différents discours que tiennent les associations relatives à l'autisme sur leurs sites web officiels. Il s'intéresse à huit associations françaises en utilisant des outils issus de l'Analyse de discours. Au-delà des points communs qui les réunissent au sein d'une même formation discursive, il met en évidence d'importantes différences entre les discours de ces groupes pourtant proches. Ainsi, si les associations de personnes autistes produisent des discours militants et polyphoniques, on constate le début d'une institutionnalisation des discours des associations de familles, qui se traduit par l'effacement des dissensions existant entre elles, les associations de personnes autistes et la psychanalyse. Ce travail de mémoire vient donc souligner une transformation importante du discours public tenu sur l'autisme au cours de ces dernières années .
Fichier principal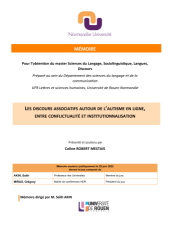 Coline Robert - Les discours associatifs autour de l'autisme en ligne.pdf (62.4 Mo)
Télécharger le fichier
Licence : CC BY NC ND - Attribution - NonCommercial - NoDerivatives