Accompagner sur le chemin de la parentalité : psychomotricité et guidance parentale en PMI auprès de parents d'enfants de 0 à 3 ans
The psychomotor therapist's work in mother and child protection centers often includes parents. In this thesis, I study how it is possible to collaborate with parents to improve psychomotor development from zero to three years old. How to behave? What qualities are needed? What are the pitfalls to avoid?
To this purpose, I explain some key concepts that enable to situate the child in his development before undertaking parental guidance : stages of motor development, holding, attachment or even the process of individuation. I also mention tools for analyzing parent-child interactions in order to identify dysfunctions in this field.
Based on three clinical cases, I want to put forward the psychomotor therapist's contribution to the help the parent in supporting the development of his child.

Le travail du psychomotricien en PMI a souvent pour spécificité d'inclure les parents. Je m'intéresse dans ce mémoire à la façon dont il est possible de collaborer avec les parents en séance pour favoriser le développement psychomoteur de zéro à trois ans. Quelle position prendre ? Quelles qualités sont nécessaires ? Quels sont les écueils à éviter ?
Pour cela, je retrace différents concepts-clés qui permettent de situer l'enfant dans son développement avant de pouvoir entreprendre une guidance parentale : les différentes étapes du développement moteur, le holding, la contenance, l'attachement ou encore le processus d'individuation. J'évoque également des outils d'analyse des interactions parents enfants qui permettent d'identifier des dysfonctionnements à ce niveau.
En me basant sur trois cas cliniques, je décris l'apport que peut avoir le psychomotricien auprès du parent dans le but de l'aider à soutenir le développement de son enfant.
Fichier principal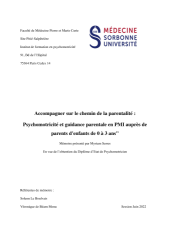 48_MEM_PSYCHOMOT_2022_SERRES_Myriam.pdf (1.9 Mo)
Télécharger le fichier
Origin : Files produced by the author(s)