Vécus transgenres et handicapés : des processus d'identification en interaction, qu'en disent les premier-e-s concerné-e-s ?
This dissertation focuses on the identification processes of people who are both transgender and disabled. Our objective is to explore experiences that have been little studied and to give a voice to people who are still very much invisible. We explore identification by medical and administrative institutions, the process of self-identification, the relationship to the community and to peers, as well as identification by others and the question of visibility. It is more specifically the interaction of these processes and identities that this thesis is interested in. Through six interviews, we realized that disability was often an obstacle to our interviewees' transitions. Paradoxically, this "dual identity" also seems to have made the pathways easier, allowing for the creation of complementary strategies for surviving institutions, and seems to have allowed the interviewees to more radically politicize their identities. This dissertation suggests that there is an urgent need for health professionals to learn about these specific journeys and that it is important for researchers to continue to explore these experiences.
Ce mémoire s'intéresse aux processus d'identification des personnes qui sont à la fois transgenres et en situation de handicap. Notre objectif y est d'explorer des vécus qui n'ont été que très peu étudiés et de donner une voix à des personnes encore très invisibilisées. Nous explorons l'identification par les institutions médicales et administratives, le processus d'auto-identification, le rapport à la communauté et aux pair.e.s, ainsi que l'identification par autrui, la question de la visibilité. C'est plus particulièrement à l'interaction de ces processus et de ces identités que s'intéresse ce mémoire. A travers six entretiens, nous nous sommes principalement rendu compte que le handicap faisait souvent obstacle aux transitions de nos interviewés. Paradoxalement, cette « double-identité » semble aussi avoir rendu les parcours plus simples, permettant de créer des stratégies complémentaires de survie aux institutions et semble avoir permis aux interviewé.e.s de politiser plus radicalement leurs identités. Ce mémoire nous apprends qu'il est urgent que les professionnels de santé se forment sur ces parcours spécifiques et qu'il est important que des chercheurs continuent d'explorer ces vécus.
Fichier principal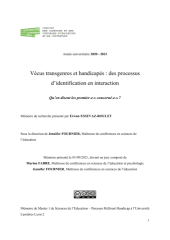 MEM1_ErwanEssevaz-Roulet_2021.pdf (1.92 Mo)
Télécharger le fichier
Origin : Files produced by the author(s)