L'Encadrant.e Technique d'Insertion, acteur.rice de l'insertion des salarié.es : un métier en tension entre accompagnement dans l'emploi et pilotage d'une activité économique
The aim of integration enterprises (IEs) is to reintegrate into the labor market people who are far from employment because of their social and professional problems. To do this, IEs have a commercial activity, producing goods or services, which allows them to offer work to their beneficiaries, who are hired under an integration contract. The employees in integration are accompanied by two people within an IE: a Technical Integration Supervisor (ETI) and a Professional Integration Officer (CIP). While the CIP helps the employees to remove their obstacles to employment and to carry out their professional project, the ETI accompanies the employees in their job, on their workstation. It ensures their increase in skills and the acquisition of the necessary know-how in the world of work. In addition to this role of accompaniment, the ETI manages a team and pilots the realization of a commercial activity in order to reach economic objectives contributing to the financial balance of the ETI. This dissertation is based on our experience as an apprentice ETI in the store of the EI Envie Rhône, where we have the impression that the support function of the salespersons in integration is put aside in favor of the good management of the store. This experience is out of step with the description of the ITE in the literature, which presents the ITE based on its mission of support in employment. In this dissertation, we therefore seek to verify the reality of this support by characterizing it concretely through practices. Our problematic is the following: In what way do the ETIs contribute to the mission of integration through their support practices? What difficulties do they encounter in providing this support? This thesis provides answers to these questions based on a review of the literature and a field survey.
Les entreprises d'insertion (EI) ont pour but de réinsérer sur le marché du travail des personnes éloignées de l'emploi en raison de leurs problématiques sociales et professionnelles. Pour cela, les EI ont une activité commerciale, de production de biens ou de services, qui leur permet d'offrir du travail à leurs bénéficiaires, embauché.es en contrat d'insertion. Les salarié.es en insertion sont accompagné.es par deux personnes au sein d'une EI : un.e Encadrant.e Technique d'Insertion (ETI) et un.e Chargé.e d'Insertion Professionnelle (CIP). Tandis que le.la CIP aident les salarié.es à lever leurs freins à l'emploi et à réaliser leur projet professionnel, l'ETI accompagne les salarié.es dans l'emploi, sur leur poste de travail. Il.elle assure leur montée en compétences et l'acquisition des savoir-être et savoir-faire nécessaires dans le monde du travail. En plus de ce rôle d'accompagnement, l'ETI gère une équipe et pilote la réalisation d'une activité commerciale afin d'atteindre des objectifs économiques contribuant à l'équilibre financier de l'EI. Ce mémoire part de notre expérience en tant qu'apprentie ETI au sein du magasin de l'EI Envie Rhône, où nous avons l'impression que la fonction d'accompagnement des vendeur.euses en insertion est mise de côté au profit de la bonne gestion du magasin. Ce vécu est en décalage avec la description de l'ETI par la littérature, qui présente l'ETI à partir de sa mission d'accompagnement dans l'emploi. Dans ce mémoire, nous cherchons donc à vérifier la réalité de cet accompagnement en le caractérisant concrètement par des pratiques. Notre problématique est la suivante : En quoi les ETI contribuent-ils.elles à la mission d'insertion par leurs pratiques d'accompagnement ? Quelles difficultés rencontrent-ils.elles pour exercer cet accompagnement ? Ce mémoire apporte des réponses à ces questions à partir d'une revue de la littérature et d'une enquête terrain.
Fichier principal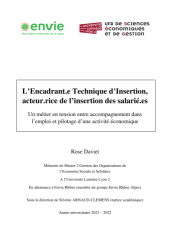 MEM2_RoseDaviet_2022.pdf (678.96 Ko)
Télécharger le fichier
Origin : Files produced by the author(s)
Licence : CC BY NC SA - Attribution - NonCommercial - ShareAlike