Grammar teaching-learning within the action-oriented approach: a comparative analysis of three textbooks of English as a Foreign Language
This thesis is about the place of grammar teaching and learning within the action-oriented approach, through a comparative study of three English textbooks used in Year 12 (Première) in French high schools. In order to carry out this study, I analysed both the official instructions issued by the French Ministry of Education and the Common European Framework of Reference for Languages in order to understand the pedagogical expectations linked to the official guidelines in the context of the modern language course. Once the principle of the action-oriented approach had been delimited, I analysed three English textbooks of Première from three different publishers to compare them in their approach to the study of grammatical structures, in class within the activities, but also in an autonomous way for the learner. This analysis was both quantitative in terms of the number of grammar structures studied in each book and qualitative in terms of the way they were treated by the textbook authors, in terms of their pedagogical freedom and the official instructions. This study led to several conclusions, but also to many persistent questions concerning the limits of textbook authors' pedagogical freedom in relation to the action-oriented approach implemented in the educational context.
Cette recherche porte sur la place de l'enseignement et de l'apprentissage de la grammaire au sein de l'approche actionnelle, à travers une étude comparative de trois manuels d'anglais de Première. Afin d'effectuer cette étude, j'ai analysé les instructions officielles transmises par le Ministère de l'Education Nationale et le Cadre Européen Commun de Référence pour les Langues afin de comprendre les attentes pédagogiques liées aux directives officielles dans le cadre du cours de langue vivante. J'ai ensuite comparé l'approche de l'étude des structures grammaticales de trois manuels d'anglais de Première publiés par trois éditeurs différents. J'ai analysé le nombre de points de grammaire étudiés dans chaque ouvrage et la manière dont ils ont été traités par les auteurs. Cette étude a abouti à plusieurs conclusions, ainsi qu'à de nombreuses questions, notamment concernant les limites de la liberté pédagogique des auteurs de manuels scolaires par rapport à l'approche actionnelle mise en place dans le contexte éducatif.
Fichier principal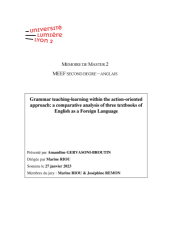 MEM2_AmandineQuéré_2023.pdf (801.29 Ko)
Télécharger le fichier
Origin : Files produced by the author(s)
Licence : CC BY NC ND - Attribution - NonCommercial - NoDerivatives