Élaboration d'un référentiel en vue de l'exploitation d'un corpus de vidéos LSF
The training period study was conducted within the INJS Cognin (National Institute for Deaf Young) has had to develop a repository LSF (French Sign Language) for the operation of a Corpus LSF. This repository is a software tool that lists all the skills curriculum on the teaching of lsf (or booklet skills) and the skill set of the Common European Framework of Reference for language specific to the RSA. These skills are related to the needs and associated video RSA. These videos are examples that illustrate the skills. This tool will allow teachers to better understand the RSA skills, to appropriate to return them to the best students through the course.
Le stage de fin d'étude qui a été effectué au sein de l'INJS de Cognin (Institut National de Jeunes Sourds) a eu pour but d'élaborer un Référentiel LSF (Langue des Signes Française) en vue de l'exploitation d'un Corpus LSF. Ce référentiel est un outil informatique répertoriant l'ensemble des compétences des programmes scolaires sur l'enseignement de LSF (ou livret de compétences) et l'ensemble des compétences du Cadre Européen Commun de Référence pour les Langue, spécifique à la LSF. Ces compétences sont liées entre elles aux besoins et associées à des vidéos LSF. Ces vidéos sont des exemples qui permettent d'illustrer les compétences. Cet outil permettra aux enseignants de la LSF de mieux comprendre les compétences, de se les approprier afin de les restituer au mieux aux élèves via les cours.
Fichier principal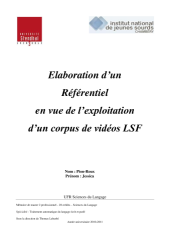 PION-ROUX_Jessica_M2P.pdf (571.15 Ko)
Télécharger le fichier
PION-ROUX Jessica_Annexes_M2P_TALEP.pdf (2.95 Mo)
Télécharger le fichier