Prise en compte du développement durable dans les projets urbains. Volet social et écologique. Application à Montréal
Despite nowadays we hear it on every lips, the sustainable development is not a new concept. Indeed, the wishes of living in a healthy environment, of well-being, and of being balanced with nature, are ancestral behaviours which carried on for centuries, especially as regards to household architecture and landscape design, before sinking into oblivion at the time of the industrial revolution. These changes of behaviour didn't give trivial consequences on our environment and our quality of life.Through this essay, we will try to highlight the causes and the consequences of the previous mistakes about urban planning, architecture, and landscape design, by the study of the City of Montreal. Then we will propose some measures that both correct it and follow the principles of the sustainable development. The analysis will be completed on several scales, such as the quite big city's one, and then the smallest district and street and building scales. Indeed, the structure of a city is in a way fractioned, and each sub-scale which makes it up needs to work in synergy with all the others, so that a sustainable efficient and consistent policy can be applied, and also so that sustainable urban projects can be born.
Bien qu'étant un grand sujet d'actualité, le développement durable n'est pourtant pas une notion nouvelle. En effet, la recherche de la qualité environnementale, du bien-être, et d'un équilibre entre l'homme et la nature sont des attitudes ancestrales qui ont été pratiquées pendant des siècles,notamment en terme d'architecture domestique et d'aménagement, avant de tomber dans l'oubli lors de la révolution industrielle. Ces changements de comportements n'ont pas été sans conséquences sur notre environnement et notre qualité de vie. À travers ce mémoire, nous tenterons de mettre en lumière les origines et les conséquences des erreurs du passé en matière d'urbanisme, d'architecture et de paysage, en traitant le cas de la ville de Montréal (Canada), pour ensuite proposer des mesures capables des les corriger tout en suivant les principes du développement durable. L'analyse sera effectuée à différentes échelles, à savoir celle assez large de la ville, puis les échelles plus fines du quartier et enfin de la rue et du bâtiment. En effet, une ville présente en quelque sorte une structure fractale, et chacune des sous échelles qui la composent doivent fonctionner en synergie pour qu'une politique durable, efficace et cohérente puisse s'appliquer, et pour que des projets urbains, durables eux aussi, puissent voir le jour.
Fichier principal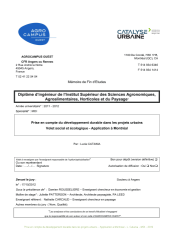 Lucie_Catania_Developpement_durable_projets_urbains_Montreal.pdf (14.76 Mo)
Télécharger le fichier