Difficultés de prise en charge de la douleur chronique par les internes de Médecine Générale de Grenoble et attentes concernant leur formation initiale
Chronic pain, as a complex and multidimensional phenomena, is one of the most common motif of consultation in family practice's offices. Residents, as young physicians are faced to this health care problem but a few studies concerned them. In this study, we would like to evaluate the difficulties residents met and their expectations about their training.Qualitative study by focus groups with meeting residents of the University of Grenoble.Five focus groups were conducted with residents from several degrees. Three themes emerged: technical difficulties, personal difficulties due to the resident status and due to patients. Their place in a privileged relationship between patients and their doctors was hard to find because of their young age, their lack of experience and self-confidence. They were biased against pain with no etiology or psychosomatic illness, challenging communication. Their expectations concerned theoretical and practice training including a personal investment and a practical and progressive experience.This study proposed an improvement of training, adapted to family practice with a globalmanagement of patients and investment oh each professional involved in pain care. The collective work for competency acquisition offered a possibility of free expression and verbalization of their difficulties and negative emotions allowing sharing and concrete analysis of their personal practice.
La douleur chronique, phénomène complexe et multidimensionnel, est un motif fréquent de consultation en Médecine Générale. Les internes, jeunes médecins en formation, se retrouvent face à cette problématique de soins, mais peu d'études les concernaient. Nous avons voulu connaître les difficultés rencontrées par les internes de Médecine Générale et leurs attentes concernant leur formation initiale. Étude qualitative par entretiens collectifs semi-dirigés d'internes en Médecine Générale de la Faculté de Médecine de Grenoble. Cinq entretiens ont été menés auprès d'internes, de premier semestre à remplaçant non thésé. Trois grandes thématiques émergeaient : les difficultés d'ordre technique, personnelles liées à l'interne et liées au patient. Leur place dans la relation médecin-malade était difficile à trouver du fait de leur jeune âge, leur manque d'expérience et d'assurance. Ils avaient des a priori négatifs concernant les douleurs sans étiologies ou psychosomatiques, mettant la communication à l'épreuve. Leurs attentes concernaient la formation théorique et pratique. Cela s'accompagnait d'un investissement personnel et de l'acquisition d'une expérience individuelle pratique et progressive. Cette étude amenait à proposer une amélioration de la formation initiale des internes, adaptée à la Médecine Générale, en intégrant la prise en charge globale, en investissant chacun des professionnels de la douleur dans cette formation. Les groupes d'acquisitions de compétences semblaient offrir une possibilité de libre expression et verbalisation de leur difficulté et leurs émotions négatives, permettant un partage et une analyse concrète de leur pratique personnelle.
Fichier principal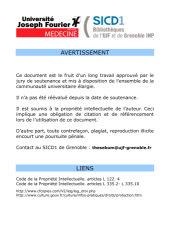 2013GRE15039_barbour_stephanie_et_baudin_marine_1_D_.pdf (1.57 Mo)
Télécharger le fichier