Autour du vieillissement : espace et démographie au Maroc
This study focuses on population aging in Morocco, its causes and issues on the territory. Through various demographic and social indicators, this paper aims to highlight recent developments of demography in Morocco that lead to population aging. This is a current issue that arises in many northern countries. Morocco itself completed its demographic transition and will soon face the consequences of aging, both in economy and social terms. Based on the 2004 census, this paper discusses the various issues of aging and demographic transition. It offers an overview of aging and its root causes, and a typology of it, taking account of spatial aspect. With some limits of mapping techniques, this paper proposes nevertheless a Cartographic Atlas as appendix which is the guiding thread of this analysis.
Cette étude porte sur le vieillissement démographique au Maroc, ses causes et ses enjeux sur le territoire. À travers différents indicateurs démographiques et sociaux, ce mémoire tend à mettre en exergue les évolutions récentes de la démographie au Maroc qui amènent au vieillissement de la population. Cette question d'actualité se pose actuellement dans de nombreux pays du nord. Le Maroc, quant à lui, achève sa transition démographique et devra bientôt faire face aux conséquences du vieillissement, autant sur le plan social qu'économique. En prenant appui sur le recensement de 2004, ce mémoire aborde les différents enjeux du vieillissement et de la transition démographique. Il propose un état des lieux du vieillissement et de ses principaux facteurs, ainsi qu'une typologie de celui-ci en prenant en compte l'aspect spatial. Tout en ayant connaissance des limites de la cartographie, ce mémoire propose un Atlas Cartographique en Annexe qui constitue le fil conducteur de cette analyse.
Fichier principal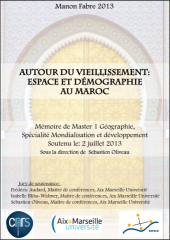 2013_Fabre_Manon_MA_moire.pdf (2.11 Mo)
Télécharger le fichier
2013_Fabre_Manon_Atlas_Maroc.pdf (4.28 Mo)
Télécharger le fichier