La musique scénique de Prokofiev à travers le ballet et le cinéma
Sergei Prokofiev took part in many projects involving visual and performing arts and as such he wrote music for dance productions and motion pictures. As a young composer in France, he collaborated with Diaghilev's Ballets Russes. After having written a few ballets, he decided to return to his native country where he received more commissions for movie soundtracks, working with producers on projects supported by the Russian Communist Party.
Prokofiev's compositional style truly changed between his first and last ballet pieces. His film scores are rather varied but show progress in his understanding of the relationship between music and picture.
A lot of these pieces were never published, were censored, or forgotten, but others such as "Romeo and Juliet" and "Ivan the terrible", are considered masterpieces of his output. The fact the he re-created orchestral compositions based on what had originally movie soundtracks or ballet music enabled the public to discover some of these forgotten films and ballets.
Through these various compositions, Sergei Sergeivich was able to discover different ways to compose music for a visual action, including dance and video editing.
Sergei Prokofiev a participé à de nombreux projets de musique scénique dont des compositions pour la danse et pour le cinéma. En France, alors qu'il est encore un jeune compositeur, il commence à travailler en collaboration avec les Ballets Russes de Diaghilev. Il y écrit quelques ballets puis il décide de retourner dans son pays d'origine où on lui commande encore des musiques pour le ballet, mais le cahier des charges est bien différent. En Russie, il est aussi chargé de composer des bandes originales de films et, à cette occasion, il travaille avec des réalisateurs sur des projets agréés par le Parti.
Le style de Prokofiev varie vraiment, de sa première œuvre pour le ballet à sa dernière. Pour les musiques de films, les compositions sont assez inégales mais il progresse dans la vision qu'il a du rapport entre la musique et l'image.
Un grand nombre de ses œuvres ne sont pas sorties, ont été censurées ou sont tombées dans l'oubli mais d'autres sont devenues des œuvres majeures de Prokofiev comme Roméo et Juliette ou Ivan le terrible. Grâce au fait qu'il écrive des œuvres dérivées de ses musiques scéniques, il permet aux ballets et aux films oubliés de se faire connaître du public.
Sergei Sergeivich, à travers ses différentes compositions, a pu essayer différentes façons d'écrire en rapport avec l'action visuelle, que ce soit de la danse ou du montage vidéo.
Fichier principal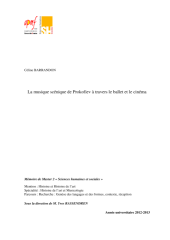 Barrandon_Celine_-_La_musique_scenique_de_Prokofiev_a_travers_le_ballet_et_le_cinema.pdf (121.97 Mo)
Télécharger le fichier