Les enjeux de la sonorisation audiovisuelle : le cas de la télévision et de la réutilisation des musiques du répertoire général
Since the Compact Disc crisis of 2003, promoting strategies are multiplying in music sector. Songs from the general directory of music are more and more used in advertisements, in public places and TV programmes. On this essay, we are going to focus on TV soundtracks making, and uses of songs from the general directory in these soundtracks. First, we want to contextualize this use in order to highlight its main stakes. Then, we will make a theoretical assessment about links between image and soundtrack, with the aim of analyzing music use. Finally, we will deal with connections between music and TV viewers. We will try to point out the fact that this use of songs from the general directory of music could be the evidence of the transition from "paleo-TV" to "neo-TV".
Depuis 2003, et la crise du disque, les stratégies de valorisation de la filière musicale se sont amplifiées. Nous assistons alors à une recrudescence d'utilisation de musiques du répertoire général dans les publicités, les lieux publics et dans les programmes télévisuels. Ce présent mémoire s'intéresse à ce dernier cas : la sonorisation télévisuelle et le recours aux musiques du répertoire général. Notre travail s'attachera dans un premier temps à contextualiser cette pratique afin d'en faire surgir les principaux enjeux. Ensuite, un état des lieux théoriques sur les relations entre image et son sera fait, afin de pouvoir analyser l'utilisation de ces musiques. Enfin, nous verrons les relations pouvant exister entre ces musiques et les téléspectateurs. Notre travail essaiera aussi de mettre en avant le fait que le recours à des musiques du répertoire général à des fins de sonorisation télévisuelle serait un témoin d'un passage d'une paléo-télévision, à une néo-télévision.
Fichier principal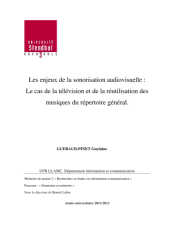 Lesenjeuxdelasonorisationaudiovisuelle_gueraudpinetg_2012_2013.pdf (764.59 Ko)
Télécharger le fichier