Acalculie dans la maladie d'Alzheimer : troubles de la numérosité et du transcodage
This study concerns the validation of ECAN (an assessment tool for acquiered numerical disorders) and is based on the analysis of 49 adults suffering from Alzheimer disease mated with 86 healthy adults. This tool enabled us to highlight pathological results for processing speed, numerosity and transcoding. Transcoding errors have furthermore been subject to a more thorough study. This paper gives the reader the opportunity to discover a new way of evaluating calculation disorder and Alzheimer disease.
Cette étude repose sur la validation de l'ECAN (Évaluation clinique des aptitudes numériques) auprès de 49 patients Alzheimer appariés à 86 patients témoins. Cet outil nous a permis de mettre en évidence les résultats pathologiques tant en termes de scores que de vitesse de traitement et ce en numérosité et en transcodage. Les erreurs de transcodage ont par ailleurs fait l'objet d'une étude plus approfondie. Ce mémoire invite le lecteur à découvrir une nouvelle approche d'évaluation de l'acalculie et de la maladie d'Alzheimer.
Fichier principal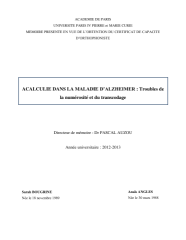 15_MEM_ORTHO_2013_BOUGRINE_Sarah-ANGLES_Anais.pdf (5.03 Mo)
Télécharger le fichier