Comparaison des compétences pragmatiques entre sourds sévères appareillés et dysphasiques de 6 à 11 ans
This study aimed to compare the pragmatic skills of 9 severe deaf children with hearing aids to those of 9 SLI children aged between 6 and 11 with a protocol composed of four tests. The analysis consisted in comparing these two groups and then comparing them with a "chronological" control group and two "comprehension" control groups. The results confirmed our hypothesis that deaf children and SLI children show pragmatic difficulties which are very similar. The results enhanced that a structural disorder (SLI) leads to more severe pragmatic impairments than a sensory disorder (deafness). Finally, some distinctive features shared by deaf children and SLI children appeared in our study: they need more time to perform their tasks and they need to be more guided than their peers. Therefore, the assessment and the reeducation of pragmatics is a necessity in front of these two diseases.
Cette étude a pour objectif de comparer les compétences pragmatiques de 9 enfants sourds sévères appareillés avec celles de 9 enfants dysphasiques entre 6 et 11 ans à partir d'un protocole composé de quatre épreuves. L'analyse quantitative des résultats compare ces deux groupes entre eux mais également avec un groupe contrôle "chronologique" et deux groupes contrôles "compréhension". Les résultats confirment l'hypothèse selon laquelle les enfants sourds et dysphasiques ont des difficultés pragmatiques proches. Ils mettent en évidence qu'un trouble structurel (dysphasie) entraine des difficultés pragmatiques plus profondes qu'un trouble sensoriel (surdité). II ressort également deux particularités communes aux enfants dysphasiques et aux enfants sourds : des temps par épreuves plus élevés et un besoin d'étayages plus important que leurs pairs. Par conséquent, l'évaluation et la rééducation de la pragmatique sont essentielles face à ces deux pathologies.
Fichier principal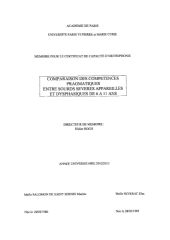 14_MEM_ORTHO_2013_SALOMON_de_SAINT-SERNIN_ Marine-SEVERAC_Elsa.pdf (12.18 Mo)
Télécharger le fichier