Analyse chrono-culturelle des habitats avec architecture de pierres sèches au Néolithique final en Provence
This thesis offers to lighten some characteristics of the housing of the end of Neolithic in Provence (France). It is based on the cultural segregation of the local population proposed by D'Anna (1995a and 1995b), and also the best definitions and chronological margin analysis of the Campaniforme culture by Lemercier (2002). This thesis particularly refers to the last geographical and chronological segregation presented by Cauliez (2009 and 2011) thanks to ceramics assembly which changed our thoughts concerning the end of Neolithic in this region. The emphasis will be realized on the problematic of walls made in dry-stone, used for housing and delimiting structures. They have been studied repeatedly, but the researches were focused on the cultural entities of Couronnien in general, while the architecture with stone was also used by different cultural groups. Though, it is offered in this work a chronological, cultural and geographical phasing of notions of architectural technique based on 26 sites of this period facing precedents works about the same chrono-cultural field. To do so, walls have been divided in several entities to differentiate them according to the building process and their current aspect which is different.
Ce mémoire propose de mettre en lumière quelques caractéristiques des habitats du Néolithique final en Provence. Il se base sur la ségrégation culturelle de ces populations proposées par D'Anna (1995a et 1995b), ainsi que les meilleures définitions et circonscriptions chronologiques du phénomène Campaniforme par Lemercier (2002). Mais il prend surtout pour référence la dernière ségrégation géographique et chronologique présenté par Cauliez (2009 et 2011) d'après les assemblages céramiques, qui ont bouleversé s notre pensée du Néolithique final sur cette région. Il ne sera question ici que d'exposer précisément la problématique des murs en pierres sèches, que ce soit ceux d'habitations ou ceux des structures de délimitations. Ceux-ci ont été maintes fois étudiés, mais les recherches ne portaient que sur l'ensemble culturel Couronnien en général, alors que l'architecture en pierre est également utilisée par d'autres faciès culturels que celui-ci. Il est donc proposé dans ce travail une discrimination chronologique, culturelle et géographique de quelques notions techniques architecturales basée sur 26 sites de cette période en vis-à-vis des travaux précédents portant sur le domaine chronoculturel. Pour cela, les murs ont été divisés en plusieurs entités pour les différencier selon leur mode de construction, et selon leur aspect actuel qui nous apparaît différent.
Fichier principal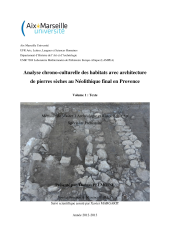 Pelmoine_2013_Texte.pdf (1.38 Mo)
Télécharger le fichier
Pelmoine_2013_Catalogue.pdf (37.93 Mo)
Télécharger le fichier
Pelmoine_2013_Illustrations.pdf (7.98 Mo)
Télécharger le fichier