Les déterminants de la performance arithmétique de 7 à 10 ans
Our work is part of a wider longitudinal study started in 2009. Tasks focusing on cognitive and arithmetic skills were administered to French children in their 3rd and 4th year of primary school. The purpose of our project was to assess the weight of each skill in the overall arithmetical performance and identify predictive factors. The final aim is to screen children with mathematical learning difficulties and to design targeted rehabilitation. The findings stress that number representation and code switching ability are essential to numerical performance.
Ce travail s'inscrit dans une étude longitudinale initiée en 2009. Des épreuves sollicitant des capacités cognitives et numériques sont administrées à une cohorte d'enfants scolarisés en CE2 puis CM1. Le but est de déterminer la contribution et la qualité prédictrice de divers facteurs dans la performance arithmétique pour dépister les enfants à risque et définir des remédiations ciblées. L'analyse des données montre l'importance de la représentation analogique et de la capacité à connecter les différentes représentations du nombre entre elles.
Fichier principal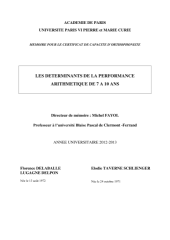 29_MEM_ORTHO_2013_DELABALLE-LUGAGNE-DELPON_Florence-TAVERNE-SCHLIENGER_Elodie.pdf (1.84 Mo)
Télécharger le fichier