Élaboration d'une batterie normalisée d'évaluation des troubles neurovisuels chez l'adulte
Following the 2009 EVA set research for the precocious screening of child neurovisual impairments, this research has established as its purpose the elaboration of a testing tool that also includes visual function impairments in brain damaged adults. To testify the sensitivity and the specificity of this exam, it has been submitted to a group of adult acquired neurovisual impairment carriers, as well as to a group of healthy individuals. At the end of this analysis, it can be asserted that the set taken into account owns a global sensitivity but its specificity cannot be demonstrated because of a much too heterogeneous limited pathological population.
Poursuivant l'entreprise de dépistage précoce des troubles neurovisuels chez l'enfant proposé en 2009 avec la batterie EVA, la présente recherche a eu pour objectif d'élaborer un outil d'évaluation complet des troubles de la fonction visuelle chez l'adulte cérébrolésé. Pour témoigner de la sensibilité et de la spécificité de notre bilan, nous l'avons soumis à un groupe de patients adultes porteurs de troubles neurovisuels acquis ainsi qu'à un groupe de sujets sains. Au terme de notre étude, nous pouvons conclure à une sensibilité globale de la batterie élaborée, sa spécificité n'a pu être démontrée du fait d'une population pathologique restreinte trop hétérogène.
Fichier principal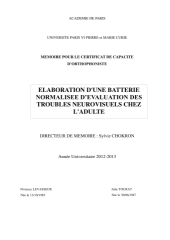 40_MEM_ORTHO_2013_ LEVASSEUR_Florence-TOURAT_Julie.pdf (3.87 Mo)
Télécharger le fichier