Quels sont les apports de la concertation dans les projets d'aménagements urbains ?
Consultation is a tool in urban development projects which is increasingly used and requested by the various actors in urban development (politicians, citizens, technical specialists). How is this tool used in design offices, and what does it bring to projects? Two examples of consultations, carried out during the internship, are studied and compared in order to identify a vision of consultation from design office in urban planning and landscape. Global issues on the consultation process and the contributions they provide to development projects for the area is cleared. A new definition of consultation is deducted to the views of those field experiment and lectures on the subject. The positive and negative points of consultation are discussed from the views of this experience.
La concertation est un outil dans les projets d'aménagements urbains qui est de plus en plus utilisé et demandé par les différents acteurs de l'aménagement du territoire (élus, citoyens, spécialistes techniques). Comment cet outil est-il mis en application dans les bureaux d'études et qu'apporte-t-il aux projets ? Deux exemples de concertation, réalisés pendant mon stage, sont étudiés puis comparés afin de dégager une vision de la concertation depuis un bureau d'études en urbanisme et paysage. Des enjeux globaux sur les processus de concertation et les apports qu'ils procurent aux projets d'aménagement du territoire sont dégagés. Une nouvelle définition de la concertation est déduite aux vu de ces expériences de terrain et des lectures sur ce sujet. Les points positifs et négatifs de la concertation étant alors discutés.
Fichier principal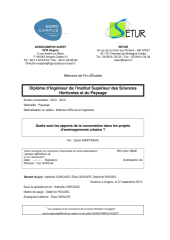 2013_Martineau_Soizic_Apports_concertation_projets_amenagements_urbains.pdf (4.3 Mo)
Télécharger le fichier