Les pelouses sèches calcicoles du Grand Clermont. Gestion actuelle par le CEN Auvergne et caractérisation théorique d'une sous-trame pour une préservation future plus globale
The Rio Earth Summit that took place in 1992 highlighted the biodiversity's erosion worldwide. From that time, there has been a change in the way people perceive natures protection, including the desire for a more comprehensive land management. Thus, following the famous Grenelle conference on environmental issues in 2009 and 2010, France adopted a new land settlements tool called "Green and Blue network". This innovative tool is based on the principle of ecological network that brings together different habitats and ecological continuity allowing the movement of species. Its appropriation by the various actors of the territory still remains complicated. However, there is a growing wish from the associations in charge of the environment's preservation to take part in the debate. Currently, the "Conservatoire d'Espaces Naturels d'Auvergne (CENA)" assists local authorities as an expert naturalist but also for regional projects. This paper will examine the current preservation's strategy by the CENA in terms of dry grasslands (habitat of community interest) and propose a theoretical implementation of the sub-frame "dry calcareous grasslands" in the Grand Clermont.
Le Sommet de la Terre à Rio de Janeiro (1992) a mis en avant l'érosion de la biodiversité à l'échelle mondiale. Depuis, on observe une évolution dans la manière de concevoir la protection de la nature, avec notamment le souhait d'une gestion plus globale du territoire, Ainsi, suite aux célèbres lois dites du Grenelle de l'Environnement (2009 et 2010), la France s'est dotée d'un nouvel outil d'aménagement nommé "Trame Verte et Bleue". Cet outil novateur s'appuie sur le principe de réseau écologique qui rassemble les différents habitats et des continuités écologiques permettant le déplacement des espèces. Son appropriation par les divers acteurs du territoire reste encore compliquée. Cependant, on observe un désir grandissant des associations de préservation de l'environnement de prendre part au débat. Actuellement, le Conservatoire d'Espaces Naturels d'Auvergne (CENA) accompagne les collectivités territoriales en tant qu'expert naturaliste mais aussi pour des projets de territoire. Le présent travail étudiera la stratégie actuelle de préservation du CENA en termes de pelouses sèches (habitat d'intérêt communautaire) et proposera une mise en place théorique de la sous-trame "pelouses sèches calcicoles" du Grand Clermont.
Fichier principal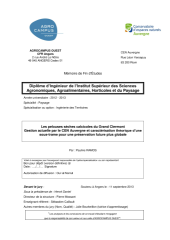 2013_Ramos_Pauline_Pelouses_seches_calcicoles_Grand_Clermont.pdf (11.75 Mo)
Télécharger le fichier