La structure et l'organisation de l'entreprise Brettes Paysage conviennent-elles au développement du marché de l'aménagement des jardins privatifs ?
Develop the privative gardens market, which is already preexistent, in Brettes Paysage company, can't be made without have studied its inner working as a preliminary. This analysis must make it possible to release the advantages and disadvantages of the organization currently in place, according to the expectation's market. Proposals for internal company reorganization, for the private customers' part, must take into account the results of this analysis.
Développer le marché des jardins privatifs, déjà préexistant, dans l'entreprise Brettes paysage, ne peut pas se faire sans avoir étudié au préalable son fonctionnement interne. Cette analyse doit permettre de dégager les avantages et inconvénients de l'organisation actuellement en place, en fonction des attentes liées à ce marché. Les propositions de réorganisation interne de l'entreprise, pour la partie clientèle de particuliers, doit prendre en compte les résultats de cette analyse.
Fichier principal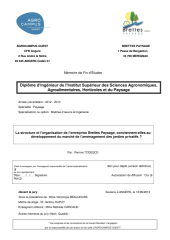 2013_Todesco_Perrine_Structure_organisation_entreprise_Brettes_paysage.pdf (1.55 Mo)
Télécharger le fichier